Having trouble finding the perfect gifts to give to your favorite ladies in your life? Look no further, One Unique Queen gots you covered!! There are items in this guide that any of the ladies in your life would love. Each gift on this guide have been personally tested and/or approved by One Unique Queen  and her family. Please enjoy and remember to keep coming back as new items may be added. This post may contain affiliate links.
Have a product you want featured in one of our gift guides? Find out more about how to submit them for consideration here or you can email me at OneUniqueQueen@gmail.com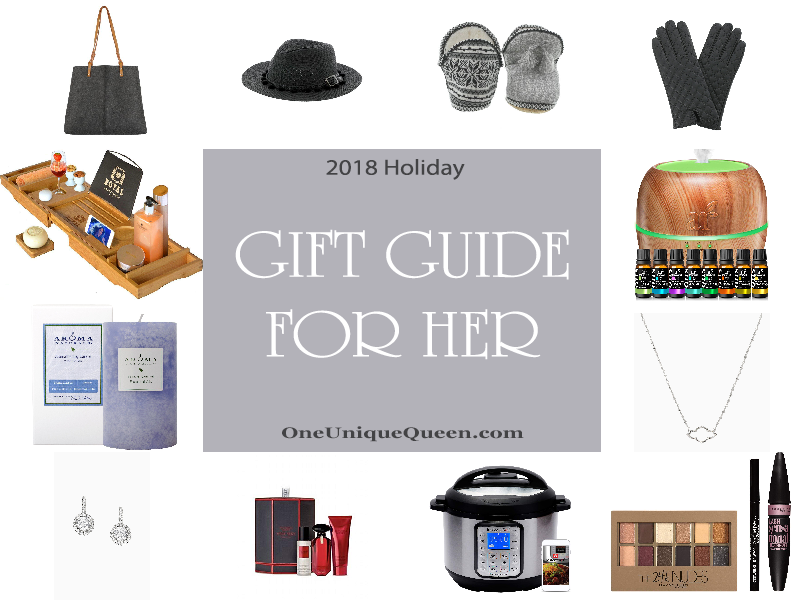 1. SUTTON FELT BAG – You are a busy lady and you need a whole bag of tricks to keep up with your lifestyle. Sutton is a sturdy felt tote to hold your laptop and a wallet, or all of your favorite daily essentials. Pack your bag and go be the best version of yourself! PURCHASE HERE
2. NADINE POM POM PANAMA HAT – Have you been searching for the perfect summer time Panama hat? Nadine features a straw hat embellished with pom poms and buckle to help block the sun as you relish in your summertime pool or park time. PURCHASE HERE
3. NORDIC SLOUCHY SLIPPERS – It has been a long day! Slip your tired feet out of those shoes and into your Nordic print slouchy slippers. Lounge around the house in your joggers and graphic hoodie. Whether you are still taking care of your family or finally melting onto your couch, your relaxation look will be on point. PURCHASE HERE
4. AUDREE QUILTED GLOVES – Gloves don't have to be big and bulky to be warm. Keep your fingers toasty warm when the temperature drops with the plaid trimmed gloves, Audree. Soft on the inside and quilted on the outside, your commute to work will be snug as a bug. PURCHASE HERE
5. BATH TRAY CADDY – Royal Craft Wood Luxury Bathtub Caddy Tray, One or Two Person Bath and Bed Tray, Bonus Free Soap Holder (Natural Bamboo Color). PURCHASE HERE
6. ARTNATURALS AROMATHERAPY ESSENTIAL OIL &  DIFFUSER GIFT SET – ArtNaturals New Essential Oil Diffuser + Top 8 Essential Oils includes the upgraded, newly redesigned version of our popular Diffuser. Its sleek new design and larger tank mean this easy-to-use, safe and silent Diffuser can provide healing mist for even longer. The Diffuser uses ultrasonic vibrations, creating a fine mist of favorite essential oils. The aromatherapy benefits of the included eight essential oil mists include relieving stress, joint pain, nasal and chest congestion. PURCHASE HERE
7. AROMA NATURALS CANDLES – Lavender is one of the most versatile and highly regarded essential oils. Known for its calming and healing benefits, it has a pure aroma that is floral yet herbal. Our artisan-style handcrafted candles were founded on the belief that Pure Plant and Flower Aromas enhance our well-being, and are a vital pathway to a healthy lifestyle. Today, we still produce in small batches, with only food-grade waxes 100 percent Pure Essential Oils and Pure Plant Aromas with natural all-cotton wicks. Aroma Naturals candles burn cleaner and have natural, delicate allergy friendly aromas that are as functional and therapeutic, as they are beautiful. PURCHASE HERE
8. PAVE ARABESQUE PENDANT NECKLACE – Hand-set pavé set in a shiny silver arabesque pendant with a unique and delicate beaded chain. Reversible from pavé to solid shiny silver pendant. PURCHASE HERE
9. ELINA DROP EARRINGS – Sparkly faceted CZ crystals adorn this delicate yet stunning drop earring. Shiny Silver Finish. ¾", Feather Weight. PURCHASE HERE
10. VICTORIA'S SECRET VERY SEXY PERFUME GIFT SET – New in box and FRESH Contains the following 3 items: Shimmer Fragrance 3.4 fl oz Shimmer Fragrance Mist 2.5 fl oz Very Sexy Eau De Parfum 1.7 fl oz. PURCHASE HERE
11. INSTANT POT SMART WIFI 6 QUART ELECTRIC PRESSURE COOKER – The Instant Pot Smart WiFi has arrived on the Kitchen scene! The first Multi-Use Programmable Pressure Cooker that can now be controlled and monitored with your mobile devices. Designed with a large display screen, Stainless Steel Cooking Pot, 6 Quart, 1000 Watts. PURCHASE HERE
12. MAYBELLINE NEW YORK NY MINUTE MASCARA SMOKY EYE MAKEUP GIFT SET – 24K Smoky Eye Makeup Kit includes 24K Nudes eyeshadow palette, Master Precise Liquid eyeliner in Black, and Lash Sensational Luscious mascara in Very Black washable. Our 12-shade palette features dazzling colors infused with metallic gold pigments. Award-winning liquid eyeliner delivers the most defined line. Volumizing mascara with precious oils provides a softer, denser finish. This exclusive set also features step by step tips to master the look. PURCHASE HERE
DO YOU KNOW WHAT YOU'RE GETTING YOUR FAMILY THIS HOLIDAY SEASON? LET US KNOW IN THE COMMENTS!