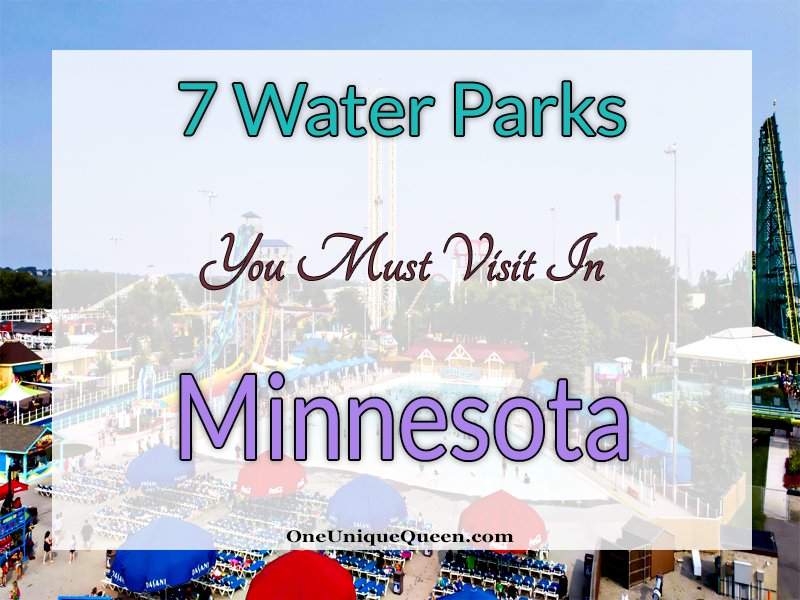 With Summer being right around the corner, we all know that it can get hot and muggy. And on those kinds of days all you can think about is how can you and your family stay cool. Minnesota has some pretty amazing indoor and outdoor water parks that will surely put a smile on your face. Each park is unique and features a whole host of awesomeness. If water isn't your thing, some parks and resorts offer a variety of dry land activities to keep you entertained! And for those of you who want to get wet, you'll be sure to be entertained for hours or maybe even for days!
Lets have a look at the best water parks Minnesota has to offer:
1. Valleyfair's Soak City Water Park – Shakopee, Minnesota
Prepare yourself for a day of unforgettable excitement! Soak City has so much to do, you'll want to keep coming back! Soak City Water Park is part of Valleyfair Amusement Park. When you pay for admission to Valleyfair, Soak City comes along with it. Once inside the main gates you don't have to leave and re-enter. Just head on over to Soak City, grab a locker (takes credit cards) and store whatever you like – mainly your dried clothes, socks and shoes for your afternoon thrill adventures. Cool down in the massive 350,000 gallon wave pool. For those who are adrenaline and action seekers, you can hit the nine water slides Soak City offers. Or if you just want to chill and relax float down the tranquil waters of nearly 1,300 foot lazy river that goes throughout the park.
2. Great Wolf Lodge – Bloomington, Minnesota
Formerly known as Water Park of America and Radisson Hotel Bloomington. Great Wolf Lodge Minnesota features all of the water park resort chain's best-love amenities, including slides, tubes, lazy river, surf simulator, wave pool and tot options. And if you're not ready to get wet enjoy the onsite restaurants, high-hanging rope course, bowling alley, arcade, the rock climbing wall and MagiQuest live-action game course along with a mining game that lets kids pan for gemstones. Themed guestrooms and suites are also on offer.
3. Bunker Beach Water Park – Coon Rapids, Minnesota
Bunker Beach features six towering water slides, a 900' lazy river, leisure pool with climbing wall, a zero-entry pool with water play structure, a creative sand play area, and as always, Minnesota's largest wave pool.
4. Wild Mountain – Taylors Falls, Minnesota
Good-sized outdoor water park at the Wild Mountain ski resort. Attractions include Big Country inner-tube ride, Black Hole speed slide, lazy river, and kids' area. Other attractions include an alpine slide and go-karts!
5. Venetian Waterpark at Holiday Inn – Osseo, Minnesota
Rain, snow or shine, the 25,000 square foot Venetian Indoor Water Park provides a Mediterranean style weatherproof retreat! The park was designed to look just like the city streets of Venice. Tall buildings frame beautiful clear pools. There's a huge hot tub where the stars above help you relax and relish in your stay. The activity pool is complete with water basketball. Two massive, winding slides. Younger children will enjoy the wading pool complete with zero-depth entry, a ship slide and interactive activities. The park also has an arcade for a little dry land adventure.
6. Cascade Bay Water Park – Eagan, Minnesota
Whether it's tumbling down Twin Falls, braving the Typhoon and Hurricane water slides or floating around the Lazy River as you rumble through its Rocky Rapids, you'll quickly discover that when it comes to water parks, Cascade Bay is the place to play! After you've had your fun at the water, dry off and sink a putt at the mini golf course.
7. River Springs Water Park – Owatonna, Minnesota
River Springs features a Lazy River, Climbing Wall, Body Slide, Tube Slide, Zero Depth Pool Area, Activity Pool, Lily Pad Walk and a large concessions area with various snacks, beverages and food items to choose from. For tons of dry land fun there's a sand volleyball court.
What is your favorite water park in Minnesota?