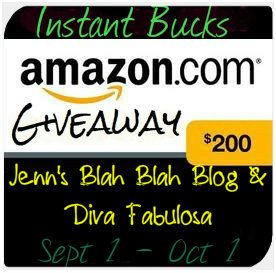 Instant Bucks $200 Amazon Blast

Are you ready for another fabulous giveaway! 
This event is sponsored by Instant Bucks and hosted by Jenn's Blah Blah Blog and Diva Fabulosa! If you have not signed up with Instant Bucks, do it now! They are new, and you will love them, similar to Superpoints, CLICK HERE TO SIGN UP!
PRIZE: $200 Amazon Gift Card
EVENT DATES: Sept. 1, 2012 – Oct 1, 2012! Plenty of time for all of your readers to enter this fabulous event!
What do you get for helping us promote?
FREE Facebook Link
Additional Links $2
Daily Votes $3
Join us and offer your readers this fabulous prize! Learn more about this wonderful Amazon Giveaway.
Please say that One Unique Queen referred you!!
---