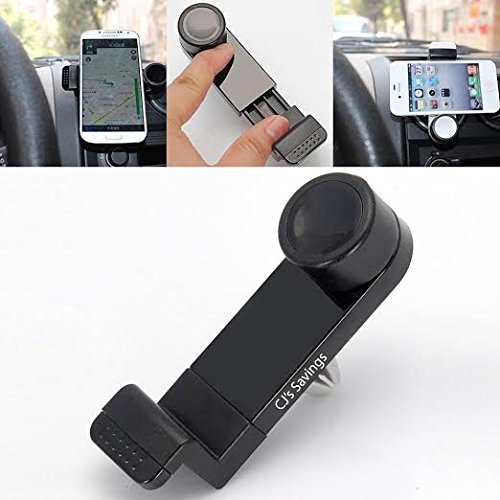 About CJS Dash Mate Cell Phone Vent Mount Holder:
Dash Mates Universal Design Means most Devices work well with this vent mount holder and the CJS Dash Mate TM. DOES not REQUIRE ANY SUCTION CUP OR ADHESIVES AND MAGNETS and will Never Leave A Mark On Your Dashboard. The Dash Mate works with most phones from 2.5 to 3.5 inches in width. Some examples are most Apple iPhones even with the larger screens for example the iPhone 5S, 5C, 5,& 6, 4S, 4G, 3G work well. The Samsung Galaxy series S5, S5 Active, S4, S4,S3, S2, S, Epic 4G, Exhibit 4G work well,The LG series G3, Realm, Revere, G Vista, Optimus, Volt, as well as the Freedom HTC One (M8), One Remix, One (M7), Desire Family, Droid Dna, EVO 4G, Incredible 4G Motorola Moto X, G, E, Droid Max, Droid Mini, Droid Razr ,the BlackBerry Z30, Z10, Q10, Bold ,Amazon Fire Phone and most other smartphones. Some Key points with this Air Vent Mounted 1.design fits most cars & trucks without impeding visibility. 2. 360 degree rotatable cradle, allows you to adjust the cradle horizontally or vertically so you can check time, maps or read messages while driving. The Dash Mate is Slim and has a lightweight design, Keeps your car neat and organized with out blocking your vision and keeping your cellphones safe & and secure. About us CJs Savings goal is to supply top quality products at a great price. Our goal is to enable customers to enjoy a safer driving experience with is new and improved cell phone mount while keeping it simple and easy to use.With our new Frustration free packaging we are 100% recyclable ensure our customers a great experience and with CJ's Savings Quality and Service is Job one and you will love the CJS Dash Mates Lifetime Warranty – Hassle Free Replacement – Satisfaction Guaranteed. Dash Mate is Universal works great for most CELL PHONES UP TO 3.5 INCHES WIDE and fits most standard heating and air conditioning vents in cars and trucks while keeping your window clear of obstructions.
Where to buy:
You can purchase CJS Dash Mate Cell Phone Vent Mount Holder
on Amazon.com
for $9.95
Important links:
For more information visit CJ Savings website.
My CJS Dash Mate Cell Phone Vent Mount Holder Review:
First I have to say is that I've never owned a cell phone mount holder before and I've heard plenty of good things on why it's good to have one. So when I had the opportunity to review this cell phone vent mount holder I jumped on it.
I'm very impressed with this cell phone vent mount holder. It is really built to be sturdy and is super easy to use. It's also very easy to attach to your vents. It's also easy to travel with. It's small enough to put in your purse or bag but big enough to hold your cell phone.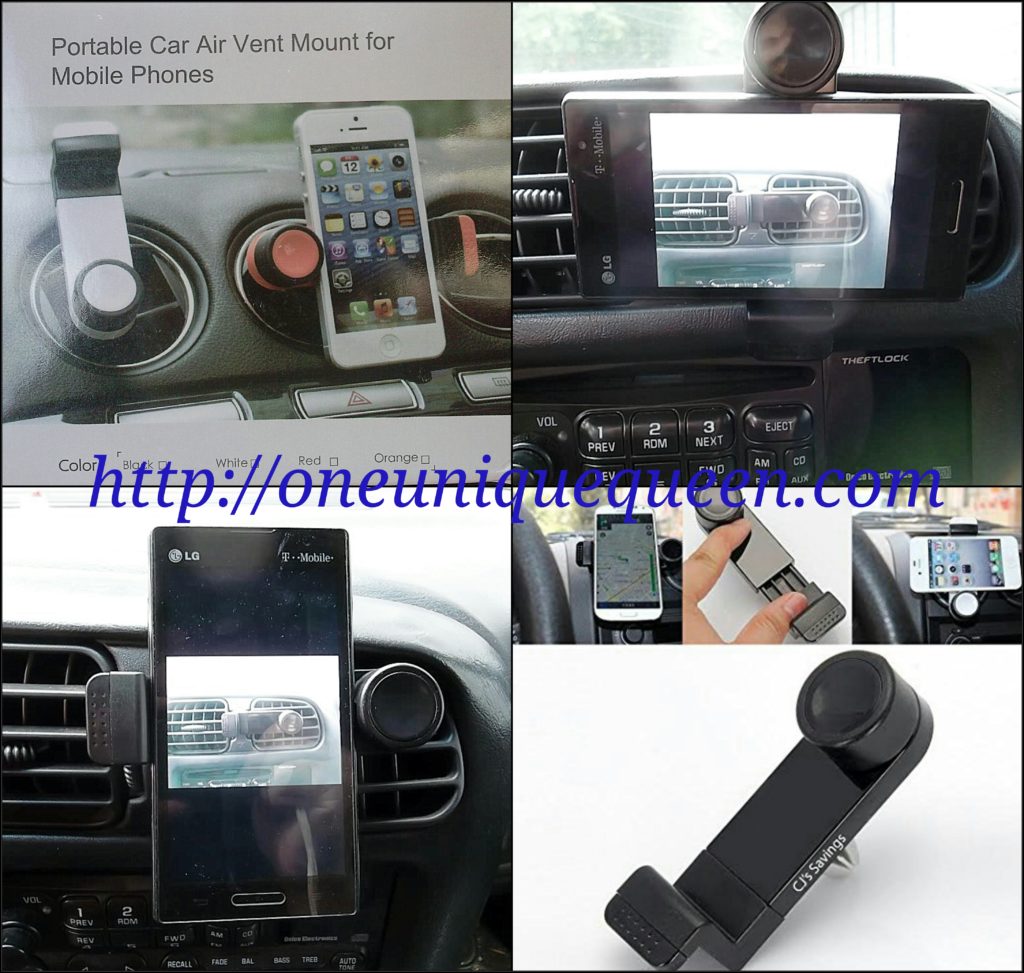 I've heard of other cell phone mount holders that have suction cups that it can easily stop working and fall off your windshield. Well with CJS Dash Mate Cell Phone Vent Mount Holder you don't have that problem. Once you put the vent mount holder in place it stays. No need to worry about it coming loose or falling off. There are two ways you can put the mount holder in place, horizontal or vertical. This makes it easy if you are using your GPS.
Overall, I think this is a great product. I think everyone who drives or are always in a vehicle and have a cell phone, they should invest in this. It's so worth it!
What is the one thing you like about cell phone mount holders? Let me know in the comments below!