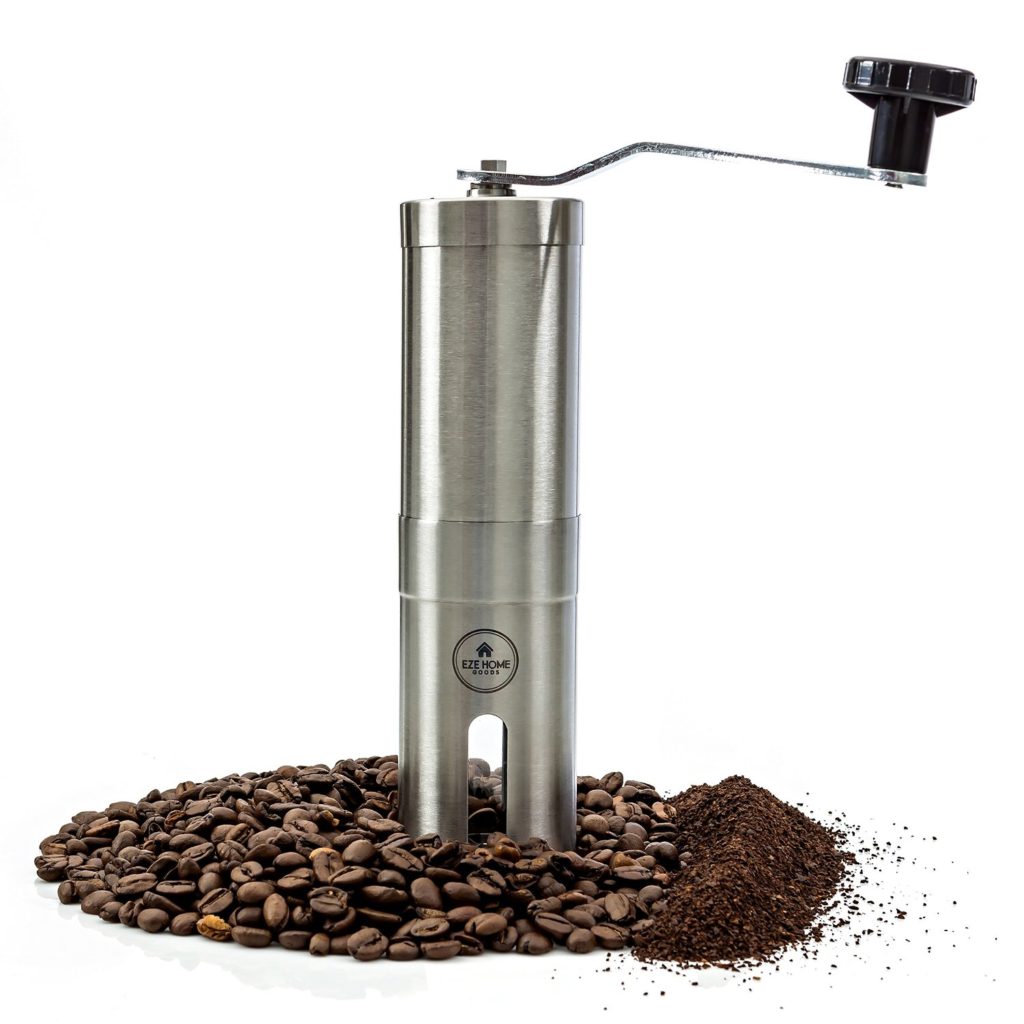 About EZE Homegoods Hand Coffee Grinder:
Coffee shops all over the world have known for years that the key to a great cup of coffee is to use freshly ground coffee beans and the best coffee maker. Now thanks to the EZE Homegoods Stainless Steel hand grinder, making coffee every bit as delicious in your own home is both easy and fast with the best burr grinder you can find! This could easily be used as a stainless steel espresso maker, stainless spice grinder, coffee grinder french press for your french coffee press.
PROFESSIONAL GRADE – manual hand coffee bean grinder that achieves a consistent grind on any coffee beans. This can also be easily used as a spice grinder or herb grinder or anything else you want to hand grind.
FAST GRIND – Due to reinforced extra long steel handle you can grind your cup in under a minute!
CERAMIC BURRS – conical ceramic burr grinders have been proven to be quieter, last longer, rust-free and absorb less heat than other steel burrs or electric coffee grinders.
DESIGNED TO FIT AEROPRESS – For easy travel or camping – this portable mini unit is easy to take wherever you want to go.
HIGH GRADE STAINLESS STEEL – Constructed for increased durability this hand crank coffee mill is built to last.
SIMPLE TO ADJUST GRIND COARSENESS – No need to take the entire unit apart, simply one turn of the knob at the bottom allowing the best grind for either espresso coffee, french press coffee or any in between.
Where to buy:
You can purchase the EZE Homegoods Hand Coffee Grinder
on Amazon.com
for $23.97
My EZE Homegoods Hand Coffee Grinder Review:
This coffee grinder is such a wonderful addition to any kitchen. It came in a nice box that is perfect for gifting. I really like how it looks. It's very nice! It is stainless steal and only comes in three parts for easy assembly. I love that it's small enough to store any where in your kitchen. It's not big and bulky in size. It's actually just the perfect size.
I've already used it a few times and I really love how this works. It's super easy to use. Each and every use, my coffee came out perfect. It was very nicely grounded and the taste was so smooth and so fresh. Just the way I like it. The clean up is very easy too. After using it just rinse, wash with soap and water and store it away. Easy peasy!!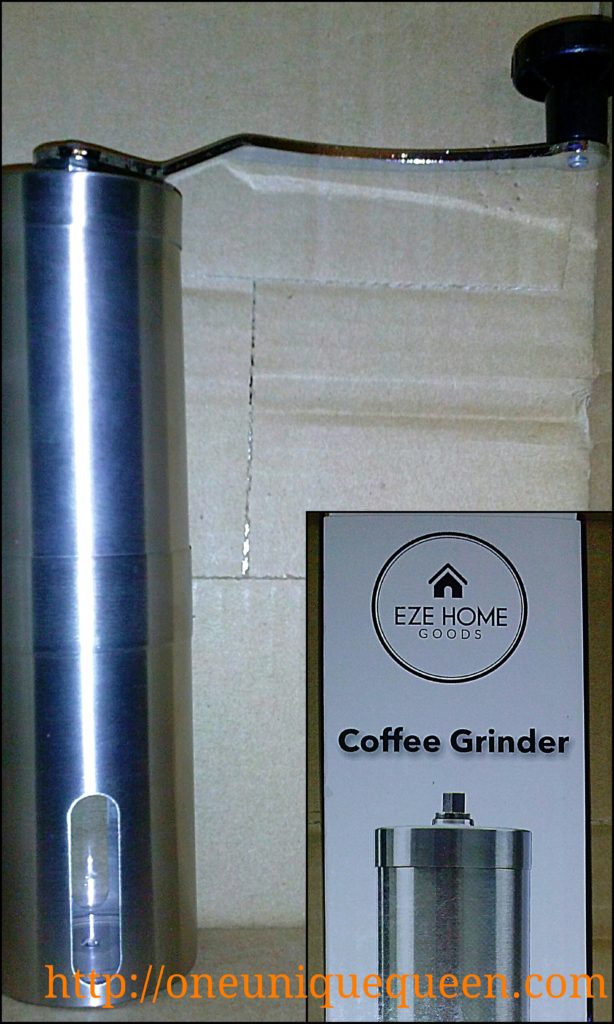 I love that it's quite. No more waking up the household early in the mornings! Also, there is no need for any batteries or plugins. It can be easy to travel with too! Freshly grounded coffee on the go? Yep, I'll take that! If you like to go camping and you love coffee, then this is perfect for you! It also makes a great addition to your camping gear!
Overall, this is an excellent quality grinder. The adjustment grind setting is easy to use; turning the black knob at the bottom of the ceramic burr, clockwise for a finer grind or counter-clockwise for a more coarse grind. It produces a very consistent grind every time you use it. I would highly recommend this product to family and friends or to anyone who likes to grind their own coffee.
Do you like to grind your own coffee? I'd love to hear about how you grind your coffee. Let me know in the comments below.