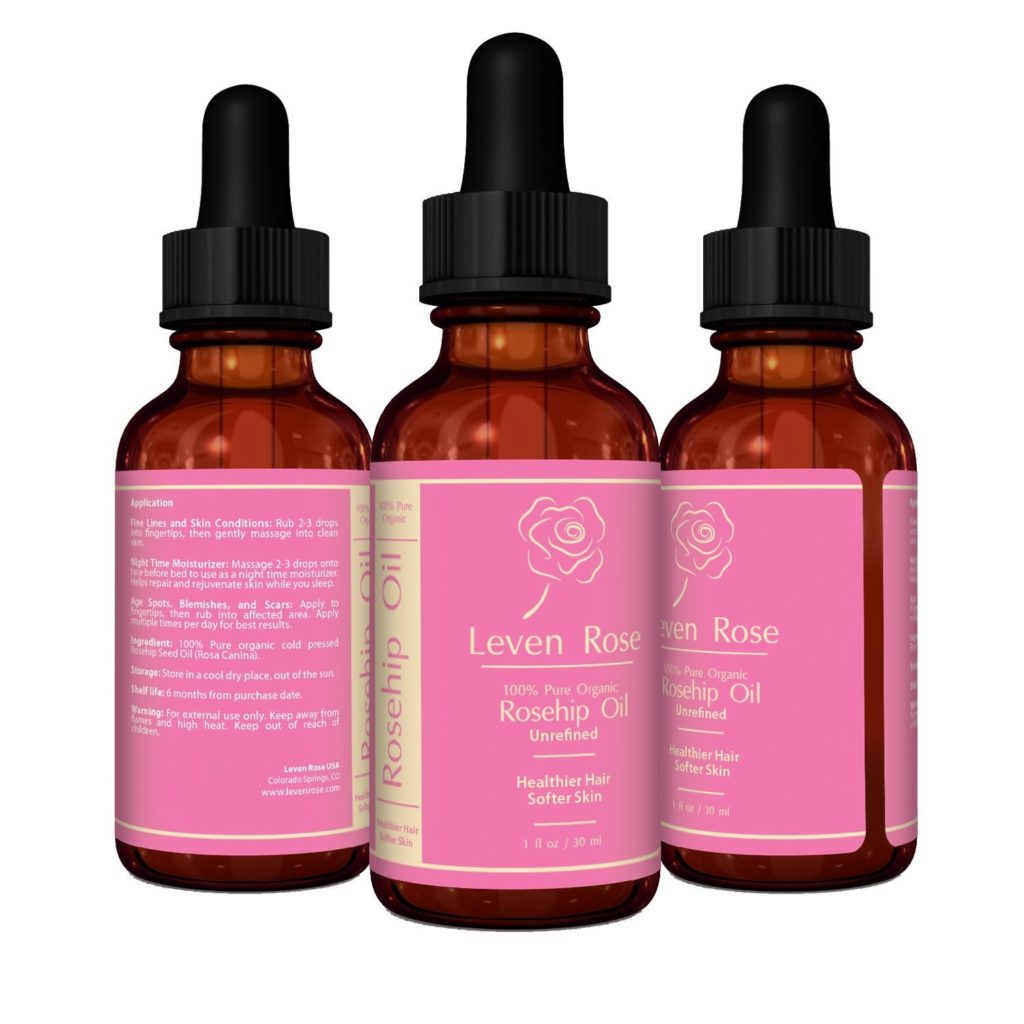 About Leven Rose Rosehip Oil:
Leven Rose Rosehip Seed Oil is one of a kind. Rosehips are cultivated in the mountains of Chile, where they are grown free of pesticides and fertilizers to the keep the plants 100% organic.
Immediately after harvesting the rosehips, the seeds are removed, and are cold pressed. Cold pressing of the seeds keeps the oil in its purest form, leaving all of the essential components of the oil intact, and undisturbed.
We never refine our Rosehip Oil. Although some prefer refined rosehip oil, because it takes some of the color and smell out of the oil, it also removes a great amount of the essential fatty acids found naturally in this wonderful oil. The oil is quickly packaged to prevent oxidation.
When applying our organic Rosehip Oil to your skin, you will notice the rejuvenating effects taking place. You will notice the Rosehip Oil quickly soaks into your skin, which has earned it the name "a dry oil", meaning it doesn't feel greasy.
Because Leven Rose Rosehip Oil is 100% organic, you never have to worry about chemicals or GMOs.
Apply daily to diminish any age spots and blemishes.
Some other common uses for Leven Rose Rosehip Oil:
Healing dry and cracked skin
Diminish fine lines and wrinkles
Even skin tone
Nighttime moisturizer
Cuticle restoration
Not sure if it's right for you? Leven Rose offers a 100% money back guarantee on all of our products!
DISCLAIMER: Rosehip Oil is made from the seeds of a wild rose bush from Chile, which is more like a shrub, and very different than the roses you get for special occasions! Do not be surprised that it does not have a "rose" scent since it's not from the same plant.
Where to buy:
You can purchase Leven Rose Rosehip Oil
on Amazon.com
for $13.97
Important links:
For more information visit Leven Rose's website. Also be sure to follow them on their social media sites: Facebook and Twitter.
My Leven Rose Rosehip Oil Review:
If you haven't notice, I'm a regular user of essential oils and natural remedies so knowing Leven Rose was offering their Rosehip Oil for review, I just couldn't pass it up.
So far I'm liking this product. They other night I used a full dropper of Rosehip Oil in my bath water and oh my gosh! My skin felt so silky and so smooth. It also made my hair a lot less frizzy. I was truly amazed at how my skin and hair reacted to this oil. I love that it doesn't feel greasy and I love that it absorbs nicely into my skin. When I apply it directly onto my face, I only use about 2-3 drops and massage it into my skin. The next day my face looks hydrated and my pores didn't clog up.

At first, I was kind of expecting it to smell like roses but it didn't. It actually has a light earthly smell to it. I didn't find the smell to be all that bad, actually. It was pleasantly nice. I notice that after you put the oil on to your skin and hair the smell does fade away quickly. So if you have a problem with the smell you should know that it doesn't last long.
The Leven Rose Rosehip Oil came in a dark brown (amber) 1-fl oz glass bottle with a glass dropper for easy use. Although, it is a small size bottle a little will go a long way. So the bottle should last you awhile. The oil is super rich, it's light making it absorb in the skin easily and it has a golden color to it.
Overall, I am extremely happy with this product. I've now incorporated this oil into my daily and night-time regimen and plan on continuing to use it.
Have you tired Rosehip Oil before? I'd love to hear about your experiment with Rosehip Oil in the comments below.