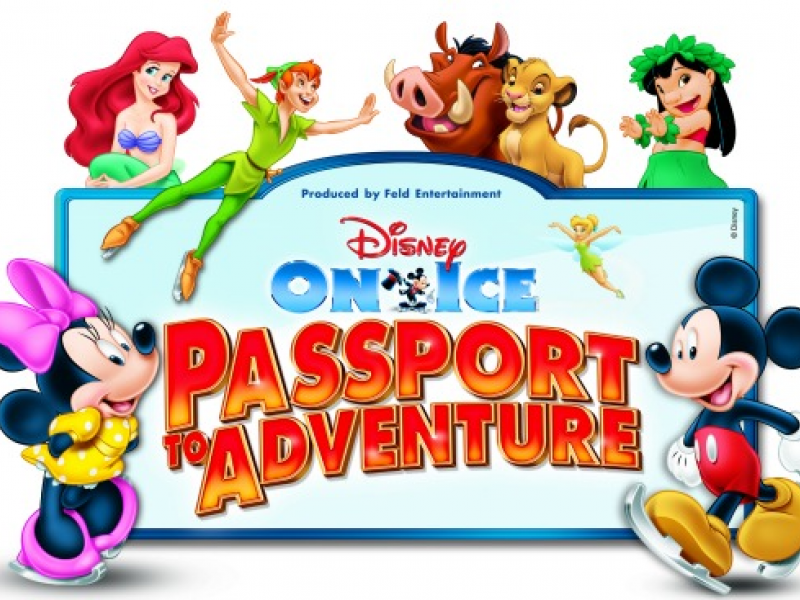 About Disney on Ice Presents: Passport to Adventure:
Embark on the ultimate sightseeing holiday with all your favorite Disney characters in Disney On Ice presents Passport to Adventure. Join Mickey, Minnie, Donald, Goofy and Daisy on a journey to the magical worlds of Disney's The Lion King, The Little Mermaid, Peter Pan and Lilo & Stitch. You'll explore the Pride Lands with Simba, Timon and Pumbaa; voyage under the sea with Ariel and all her aquatic friends; tour London with Peter Pan and Wendy, before flying to Never Land; and travel to Hawaii to visit Lilo and Stitch.
Upbeat music, lovable characters and exciting destinations make Disney On Ice presents Passport to Adventure a holiday you'll never forget.
Disney On Ice presents Passport to Adventure features an international team of award-winning figure skaters, high-energy choreography and a colorful set that captures all four unique worlds. Audiences will be entranced as they experience this exciting excursion — one that will fill the arena with magic, music, and best of all, Mickey and Minnie!
Where to buy tickets:
You can buy tickets at your local ticket master or buy them off of the Disney on Ice website.
Important links:
Check out Disney on Ice website for more information as well as follow them on their social media sites: Facebook, Twitter, Youtube and Instagram.
My review:
Thank you to US Family Guide for providing my family with 4 tickets to Disney on Ice Presents: Passport to Adventure.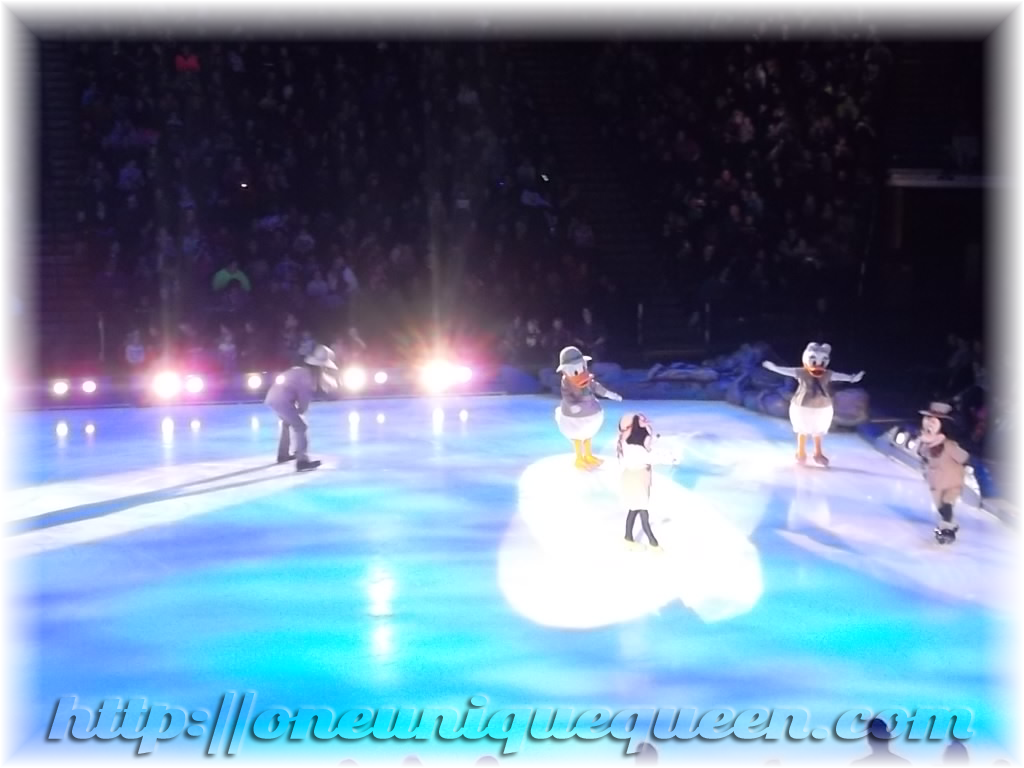 Disney on Ice: Passport to Adventure has a great cast. You get to travel around the Disney world with Mickey, Minnie, Daisy, Donald and Goofy. While on this magical adventure with Mickey  and his gang, you'll be sure to run into some of your favorite classic Disney characters. Lets start from the beginning.
The show starts off with Mickey and his gang traveling through the wild Safari of Africa to tell the story of The Lion King.
We got to see Simba, Nala, Rafiki, Timon and Pumbaa telling us how a young Simba grew up and accepted his role as king along side Nala. Some of the songs included was "I just Can't Wait to Be King," "Can You Feel the Love Tonight," and "Hakuna Matata." Simba and Nala were amazing! Their costumes were perfect and they skated so beautifully with one another. It was fun watching them skate. My daughter and little sister had big eyes and mouth wide open with all the fun tricks they did.
Next stop was deep sea diving Under The Sea with The Little Mermaid.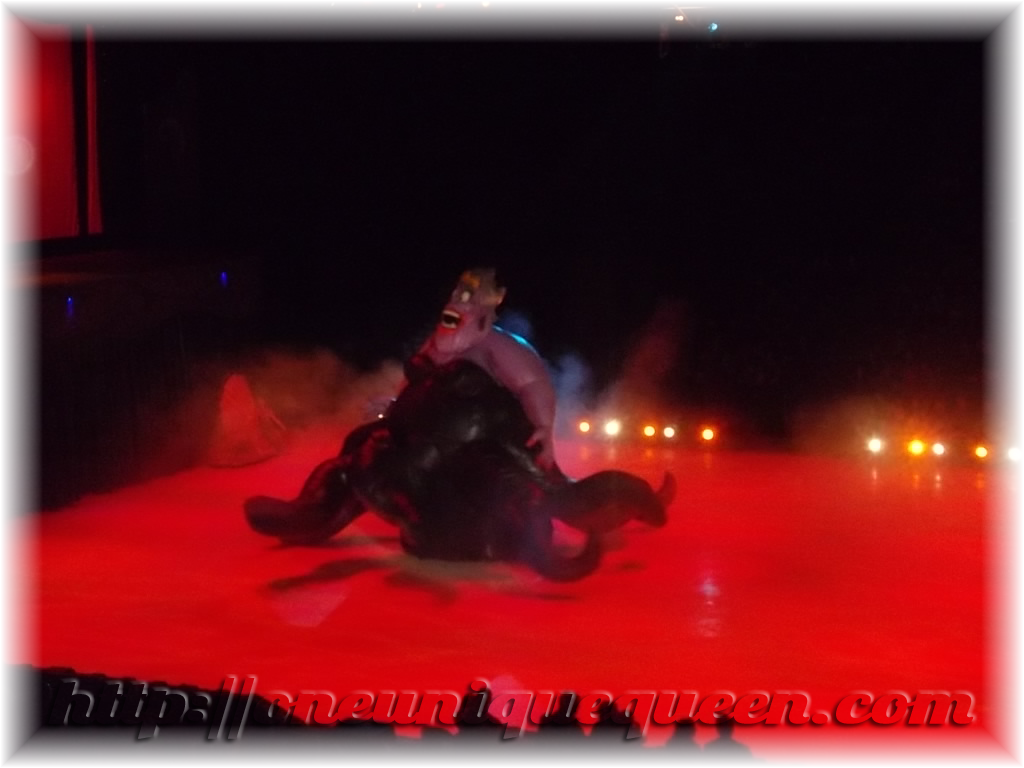 This is one of my daughters favorite movies. So when she seen Sebastian come out with Ariel's sisters she knew exactly what this show was going to be about. The giant Ursula inflatable was a hit with the kids. Prince Eric and Ariel's duet was also amazing! I thought that Disney should have incorporated King Triton in the show because they showed how Prince Eric defeated Ursula but we did get to see how she became a giant. Also, I think at the scene where Prince Eric and Ariel are married they should have some how had her in a nice beautiful dress. Other than that this segment was pretty fun to watch. Some of the songs included was "Under The Sea," "Part Of This World," and "Kiss The Girl." All of the costumes were also amazing! You definitely felt like you were under the sea!
After the deep sea diving, we ended up on the shores of Hawaii with Lilo and Stitch.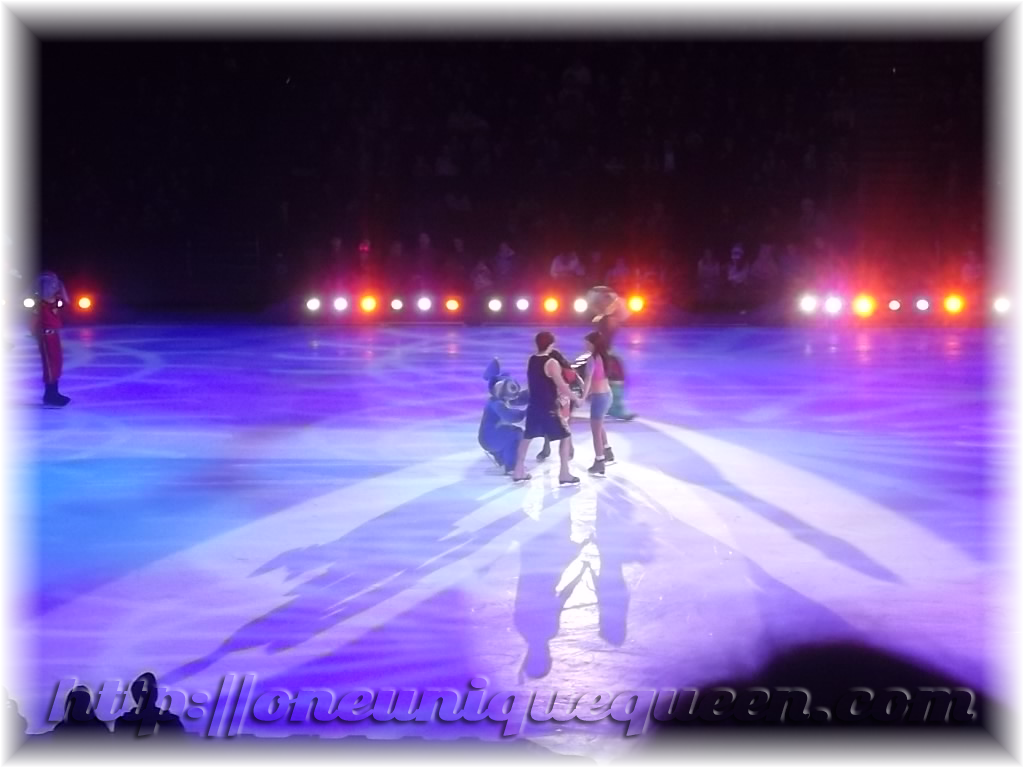 I love how Lilo and Stitch took you from beginning to end in the little bit of time they had. If you've never seen the movie before and seen this first, you'll be able to understand the story line. We got to see Stitch arrived to Earth then get adopted by a lonely, desperate child who all she wanted was a friend, Lilo. Lilo and her sister, Nani reminded us that "Ohana means family and family means no one gets left behind." Some of the songs included was "Burning Love," and "I cant help falling in love with you." My favorite part of Lilo and Stitch show was when Stitch was trying to learn how to play the guitar. It was also fun watching this segment because it was very upbeat and I love seeing the skaters hula dance.
It's time for a quick intermission. Potty breaks and yummy snacks!
During the second half of the show, Mickey and the gang traveled to London to meet up with the Darling children before they flew off with Peter Pan and Tinkerbell to Neverland.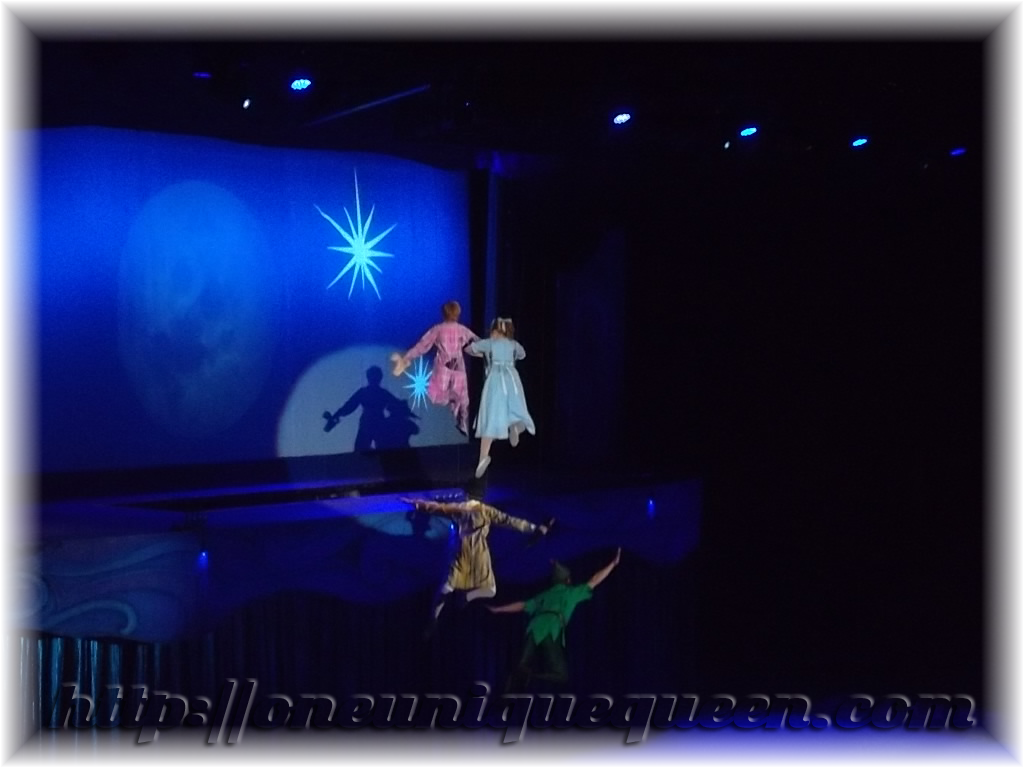 It was pretty amazing to see them fly. All the kids in the arena were oohing and ahing as they watched Peter Pan and the Darling children fly over the ice. In Neverland we got to see Peter Pan chase his shadow and attempt to catch it. Also, while were were in Neverland we met up with the Lost Boys, Captain Hook, Mr. Smee and Hook's pirates. It was pretty awesome to see a huge inflatable crocodile (Like Ursula) come out after the big, incredible ship. After Peter Pan saves Wendy, he pushes Captain Hook into the crocodile's mouth and Neverland becomes safe forever. I must say that the Peter Pan segment was packed with so much action that it kept the kids thoroughly entertained. My favorite part of the show was when Tinkerbell waved her wand and Pixie dust came out.
My family and I really enjoyed the show. All of the costumes were beautifully made with shiny sequins and popping colors. They even had some pretty clever covers for the skates to make it look like real shoes or fins, etc… And if I didn't mention it before, all the skaters are extremely talents! The entire show was filled with songs we love from Disney. It is definitely a show I recommend to all families. You'll be sure to have a smile from beginning to end while singing along with the characters you love so much. The magic of Disney was surely present!
If you've never been to see Disney on Ice before, I highly recommend you go and bring the kiddies along! They'll love it just as much as you would. You and your kids will have a magical time, for sure!
Have you been to see the Disney on Ice Presents: Passport to Adventure yet? What did you think of it? I'd love to know about your experience in the comments below.