Trying to figure out what to stuff your stockings this Holiday? A little something goes a long way! Check out these awesome "Stocking Stuffers" gifts. These are also perfect gifts for teachers, neighbors, office exchange, gift bags and more. Each gift on this guide have been personally tested and/or approved by One Unique Queen and her family. Please enjoy and remember to keep coming back as new items may be added. This post may contain affiliate links.
Have a product you want featured in one of our gift guides? Find out more about how to submit them for consideration here or you can email me at OneUniqueQueen@gmail.com.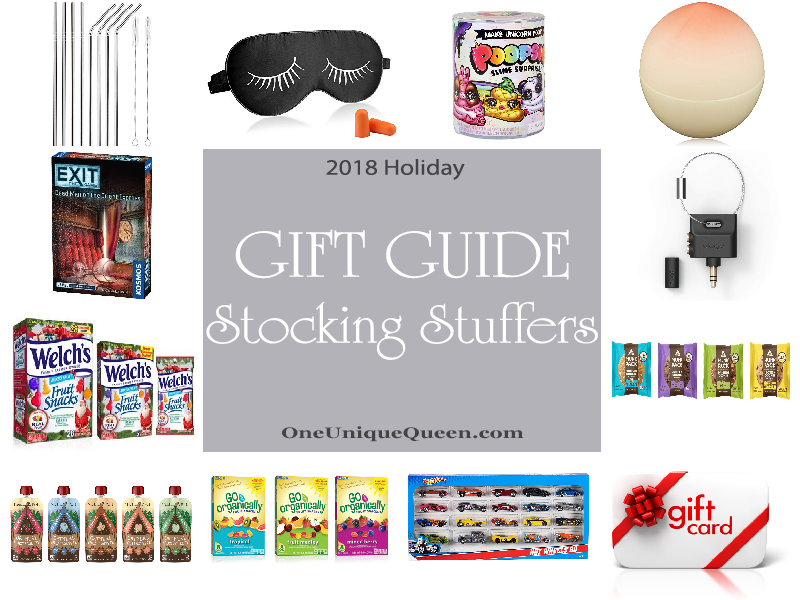 1. STAINLESS STEEL STRAWS – YIHONG Set of 8 Stainless Steel Straws Ultra Long 10.5 Inch Drinking Metal Straws For Tumblers Rumblers Cold Beverage (4 Straight|4 Bent|2 Brushes). A stylish accessory for your stainless steel rumbler tumbler, what's more, it keeps your drinks cold for a longer time; 10″ length is a perfect fit for your 30oz travel rumbler tumbler,tall glasses of juice or cocktails or to use in your insulated thermos or cooler mug. Also, tested under related FDA standard by Bureau Veritas, one of the most trusted names in safety testing to make sure the straws are heavy metal free and 100% food contact safe. PURCHASE HERE
2. FITGLAM NATURAL SILK SLEEP MASK – Fitglam Natural Silk Sleep Mask / Eye Mask with Eyelashes Patterns & Free Ear Plugs, Black With White Eyelashes. A sleep aid and eye relaxer, the Fitglam sleep mask is made of 100% top quality 19mm Natural mulberry silk on BOTH sides. The super soft, super smooth mulberry silk is light weight, breathable and protein rich, which gives you total blackout, whether at home, in a hotel or on the plane. PURCHASE HERE
3. POOPSIE SLIME SURPRISE POOP PACK – You can make magical unicorn poop! With a little unicorn magic and sparkle, you can customize unicorn poop and transform it multiple times! When you gotta go, store the poop for magical fun anytime!​ PURCHASE HERE
4. TONYMOLY MINI PEACH LIP BALM – Fruit shaped lip balm is not only adorable but also extremely hydrating and soothing. The lightweight and creamy formula melts into lips for long lasting moisture leaving lips happy and hydrated. Kissy your lips with this deliciously fun Mini Lip Balm in Peach from Tony Moly. Made in Korea, this lip balm contains yummy ingredients designed to soften those lips so you can pucker at leisure. Tony Moly is a Korean beauty brand who's global presence makes it a wonderful blend of innovation & popular cosmetics with adorable packaging. PURCHASE HERE
5. THAMES & KOSMOS EXIT THE GAME: DEAD MAN ON THE ORIENT EXPRESS – The Game is a series of escape room games for the home. Players must solve riddles and puzzles and crack codes to escape from an imaginary room or environment. But the clock is ticking! Can you escape? A classic tale of murder on the Orient Express, reimagined. The culprit of a grisly crime is still on board your train. It's a race against time to piece the clues together before the train reaches its destination. The case is perplexing, and you must solve it quickly so the assailant does not escape. Difficulty Level: 4 of 5. PURCHASE HERE
6. ELAGO KEYRING HEADPHONE SPLITTER – Design inspired by utilizing the extra space on your keychain. Listen through one of the two terminals using earphones (3.5mm) and share the other with a friend. Thermo Plastic Elastomer (TPE) is used to create a durable, impact resistant product. The elago Keyring Splitter can be easily secured and transported. Easily fitting in one's hand, the elago Keyring Splitter can be applied without any hassle and removed just as quickly. It is light weight, weighing roughly 8 grams. PURCHASE HERE
7. WELCH'S CHRISTMAS FRUIT SNACKS – The NEW Welch's® Fruit Snacks Christmas-themed box and pouch now feature custom Christmas-themed graphics and pieces in seasonal shapes, including an ornament, Christmas tree, snowman, Santa Claus and a snowflake. These festive fruit snacks are the perfect snack to gift in any stocking during the holiday season! PURCHASE HERE
8. MUNK PACK PROTEIN COOKIES – A tasty and better-for-you stocking stuffer option, Munk Pack Protein Cookies are a delicious protein alternative. With all new packaging and 18G of plant-protein per cookie, they're soft-baked, vegan, gluten-free and filled with fiber. PURCHASE HERE
9. MUNK PACK OATMEAL FRUIT SQUEEZES – Munk Pack also offers Oatmeal Fruit Squeezes that also make for great, healthy stocking stuffer options! They are ready-to-eat pouches of oatmeal, packed with grains and fruit bites. Available in five delicious flavors, including Apple Quinoa Cinnamon, Maple Pear Quinoa, and more, they are gluten-free, non GMO, vegan and high in fiber. PURCHASE HERE
10. GO ORGANICALLY FRUIT SNACKS – If you're looking for an organic fruit snack alternative, Go Organically has you covered! It's as easy as tossing a few pouches in each loved one's stocking and everyone will delight in these delicious treats. Go Organically Fruit Snacks are a tasty, on-the-go, USDA-certified organic fruit snack made with real fruit. Even better, these fruit snacks are gluten-free, GMO Free and contain no preservatives, offering families a delicious and authentic snack. PURCHASE HERE
11. HOT WHEELS CARS – Gear up for a trunkload of fun with the 20-pack Hot Wheels collection of vehicles! Collectors and car enthusiasts admire these amazing 1:64 scale vehicles with fondness and reverence. This collection features classic decos and hot designs. The cars are great to play with for kids large and small. Use with track sets or enjoy simple push-around play. With 20 cars, it's 20 times the fun! Ages 3 and older. PURCHASE HERE
12. GIFT CARDS – When in doubt… give a gift card. PURCHASE HERE
WHAT ARE YOU STUFFING YOUR STOCKINGS WITH THIS HOLIDAY SEASON? LET US KNOW IN THE COMMENTS!