These days is seems like our teenagers are zombies. They constantly have their heads down with their eyes and hands glued to their cell phones. It's like they don't know how to have fun or what fun is anymore. I know teens can be fussy and trying to keep them entertain can be a tall order to fill. But it is doable!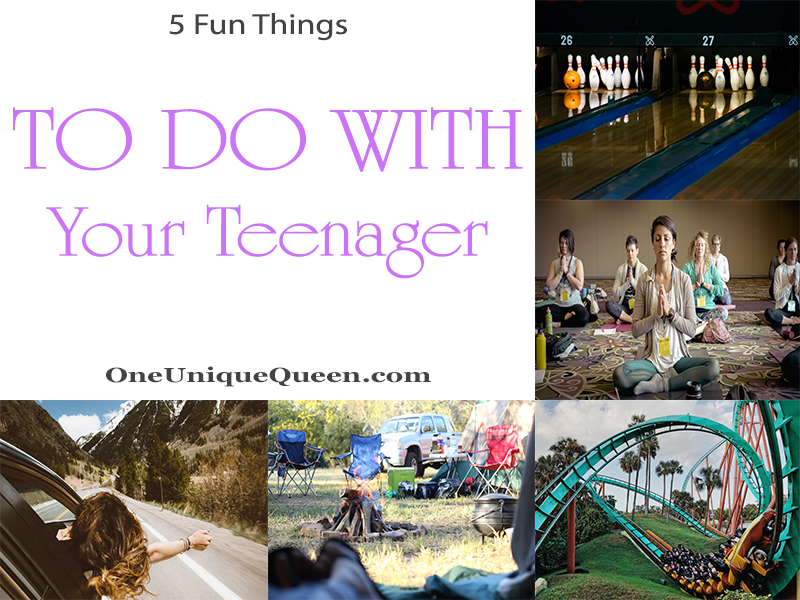 One thing we need to remember is we once were teenagers ourselves and from what I remember, teens love to laugh, experience adventures, play and just want to be heard. I believe that the more time we spend with our child/ren, the more bonding moments we make and make a life-long memory that we can share.
Here are 5 fun things you can do with your teenager.
1. YOGA – Now-a-days it seems like teens are SO stressful! Oh lets not to mention, us parents are too. I find that Yoga is a great way to relieve some of our stresses in such a healthy way. It's calming and relaxing. Yoga is a very popular activity that you can find all through out the cities. Most places will let you come in for a session. Find one near you and give it a try!
2. EXPLORING NATURE: HIKING, CAMPING, ROCK CLIMBING, ETC… – Exploring nature is a great way for bonding as a family. Get out and create some awesome adventures together. No matter where you live at, there is somewhere nearby that you can explore. Find a trail to hike or a nice place to camp. Heck, you can even find a nice place to go rock climbing. Of course, you'll need to be properly trained and have the proper equipment to rock climb. If neither of these fit you, find a local rock climbing wall.
3. VISIT A THEME PARK – Plan a trip to your local theme park. I'm sure wherever you live, there is one within driving distance. And if you or your teen plan on visiting a water park, make sure to bring the right clothing. Don't forget to check for youth, teenager and/or student discounts.
4. TAKE A ROAD TRIP – Road trips are so much fun! There are so much you can do while you're on the road. Lots of people and place to see. When planning your road trip, make sure to find fun, quirky and interesting sites to see. Get out and enjoy the local people, food and scenery on your road trip.
5. BOWLING – Why not get out and go bowling? It's such a fun and entertaining sport. Bowl for fun or turn it into a competition among each other. Grab some food, cheer for each other whenever someone gets a strike or laugh and joke about the gutter balls. Either way, the whole family will have a blast!
Whatever it is that you choose to do with your teen, keep in mind to make it special. There is no greater feeling then making some amazing memories together and keeping your family bond tight! To me "Family Is A Blessing" and "Family Comes First"!
What activities does your teen enjoy doing during the weekends? Share some ideas with us in the comment section below!