I have been waiting anxiously for what seemed a long time to finally get my test results back from Ancestry.com. I've found myself checking their website daily. It was almost a must do every day before you do anything else, kind of thing. Finally, I got that email saying my results are in. Woot Woot!!
Before I go on about my results, I just want to point out that during this whole process, I've come to the realization that the more you learn, the more questions you have. And not to mention, how complicated and involved it is with tracing your DNA and connecting them to your ancestors. I'm telling you this is and can be very intense. It can be an emotional roller-coaster, but every day the process and the learning gets better and better.
Here's how the whole process went for me:
I ordered my kit back on September 1st and a week later is arrives on my door step. (I ordered my kit from here: AncestryDNA) (Read my post: Where Do I Come From?)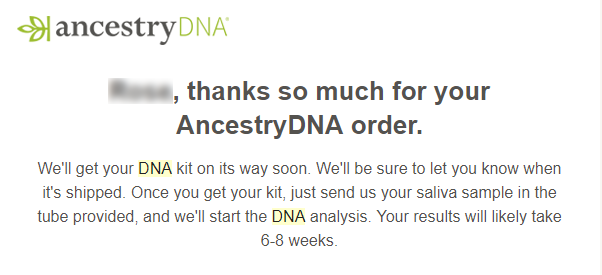 As soon as I got the test in the mail on September 8th, I opened up the kit and activated it immediately online by following the easy directions that was inside of the kit. When you activate your kit with Ancestry, it's just basically you registering your kit with AncestryDNA so that they know you've gotten it and to let them know whose DNA it belongs to when it gets to their lab. After I activated my kit, I received this email: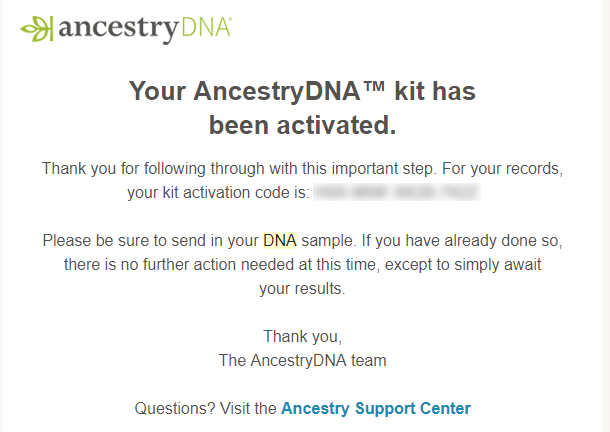 The following day, September 9th, I followed the directions inside the kit to gather up my DNA sample (which was super easy… only involved spitting into a little vial a few times) and mailed it in to the AncestryDNA lab. On September 15th, I receive this email from Ancestry saying that they had received my DNA sample.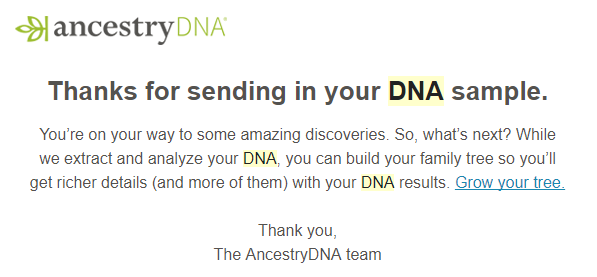 On September 26th I get this email from Ancestry saying that my DNA sample was in the lab processing.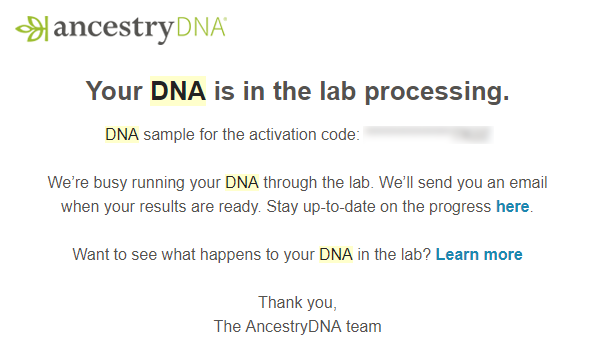 Now that I know my DNA sample was in the lab processing, all I can do is anxiously and patiently wait for the results to come in. On October 8th I got the email I've been waiting on. The email that had me all anxious and excited! Yep, my results were in!!! I felt my heart flutter the moment I seen the email. And for some reason I felt a bit nervous about seeing my results. I have no idea as to why because I know who both my parents are. I guess maybe it's the fact that this is proof by scientific facts. Or maybe because I was a bit scared of what I would find.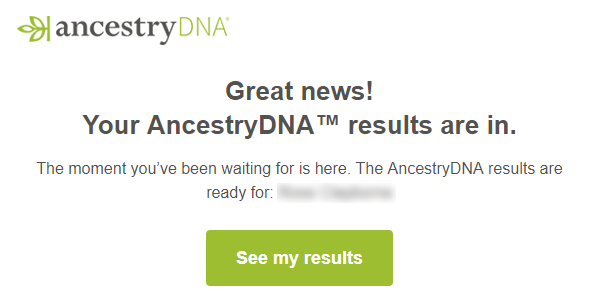 So lets recap the time frames:
Sept. 1, 2016 – Bought Testing Kit
Sept. 8, 2016 – Received Testing Kit and Activated Testing Kit.
Sept. 9, 2016 – Returned Testing Kit.
Sept. 15, 2016 – Received email Ancestry got my sample.
Sept. 26, 2016 – Received email the DNA Made it to the Lab.
Oct. 8, 2016 – Received email that DNA results were in.
The whole process from start to finish was under 6 weeks. That's pretty fast, if you ask me!
Any guesses on what my results came back as?