Here are some Recommended ShareASale Companies You Should Be Working With!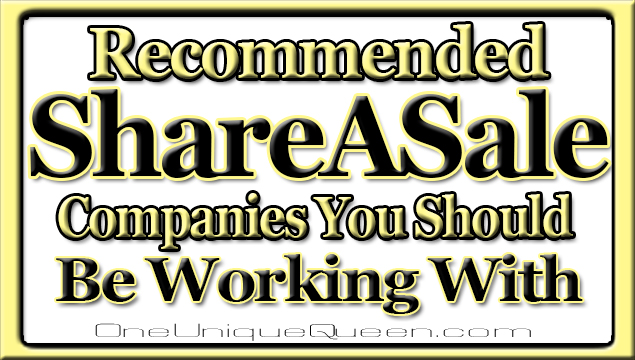 If you don't already know what ShareASale is… ShareASale is an Affiliate Marketing company that you sign up with to help monetize your blog. Once you've signed up and been approved as a publisher then you can start signing up with companies that you see will be a good fit for your blog.
After signing up with the companies that you are interested in, wait for your approval from that company before you post or add their banners to your site. Usually they'll send you links and banners in their approval or welcome e-mails and sometimes in their weekly or monthly digests. If you happen to not get their emails but you know you're approved to be part of their Affiliate partnership, you can always sign into your ShareASale account and find the links there.
Recommended ShareASale Companies You Should Be Working With!
These are companies who offer either immediate payment for banner placement, free complimentary products, and/or great bonuses.
Stella & Dot
Blurb
ALOHA
Tea Collection
Griffon Apparel
Ecocentric Mom
Adorn512
WORLD
Larson Jewelers
Vessel Scents of Style
BDellium Tools
TeeShirtPalace
Cooper & Kid
Wine of the Month Club
Beauty Box 5
Design By Humans
Cents of Style
Whimsical Gifts
TIP: I recommend that you send a short email to any ShareASale company that approves you, asking for product to review.  You never know…. you may be surprised by their answer! If they happen to send you out a complimentary product, make sure you include your affiliate link in your review.
What are some ShareASale companies do you recommend? Please share in the comments below, I'd love to hear about them!
DISCLOSURE: THIS POST DOES CONTAIN AFFILIATE/REFERRAL LINKS.