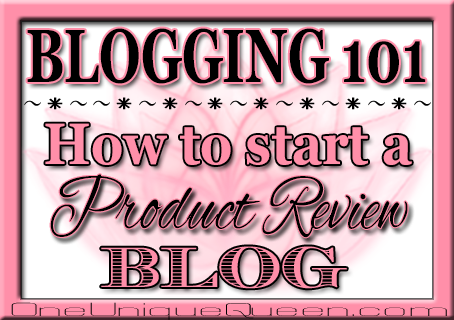 I've been getting TONS of emails from my readers and fans asking me "How to start a review blog?" I love being able to help others but with the overwhelming emails I've been getting it's been hard for me to respond as quickly as I like, so I've decided to make a Blogging 101 series directed at helping those who would like to start their own blog. So if that is you, listen up!
First, I'd like to note that blogging is and can be hard work. I'm not saying this to scare you off so please don't take it that way. It's a lot harder and more time consuming than you realize. There's lots of writing, editing, filming, photographing, actually testing the products, creating attention grabbing graphics, sending links back to companies, pitching, preparing and promoting giveaways and etc… all of those things add up – time wise. Yes, it can be stressful at times and you may procrastinate or have writer's block but if you set a schedule and stick with it, it can make your blogging life a lot easier. Also, to make it a bit more easier and a bit more organized, I would suggest you have some kind of daily/weekly theme going on. You can read more about my daily/weekly theme ideas here. On average, I spend at least an hour on each one of my blog posts (not including the time when I'm actually testing the product out) writing, editing, filming, photographing and/or preparing a giveaway for my post.
[bctt tweet="#Blogging takes time! Especially if you are somewhat of a perfectionist!! #LearnHowToBlog" username="OneUniqueQueen"]
You'll need at least 7 hours a week of free time that you can use for blogging and maintaining your social media accounts that are associated with your blog and not to mention time to respond to emails. If you don't have the time then I probably wouldn't recommend blogging for you. Again, I'm not saying this to scare you off but the more you know the more accurate decision can be made when starting a blog.
Now with all that being said, I'm going to touch on a few basic essentials that you would need to start your own blog. Here are a few suggestions to start out with:
A CATCHY NAME: I always tell people before you start a review blog or a blog in general, you need to ask yourself what exactly do you want your blog to be about? Once you answered that question the very first step is figure out your blog name. You want your blog name to reflect what your blog is about. This may take some time to figure out so take your time. Make sure it's a name that you really like and want. You can change it later if you choose but I highly don't recommend that at all. It's such a hassle having to change it all over your social networks, let alone having to tell all of your contacts and email subscribers that you had changed your name and blog URL. So, take your time and choose your name wisely.
AN EMAIL ADDRESS: You'll want to make and email account for your blog and you'll want to keep that email separate from your personal email account. This is to help you keep things organized. Any and all blog business relations should be done through your blog email account. I suggest using gmail as your blog email account. If you purchased a domain name and web hosting usually they will provide an email account associated with your blog domain. For example it may look something like this: Rose@oneuniquequeen.com. You would have to check out your hosting account to see if you have it.
BLOGGING PLATFORM: Once you've found your name the next step is to actually start your blog. In order for you to do that you need to find the right blogging platform that you are comfortable working with. Most bloggers use either WordPress or Blogger platforms but there are many that you can choose from. Both are 100% free to use and easy to set up to get you started on your blog. I suggest starting off using one of the free blogging platforms to get yourself familiar with blogging and once you've established a little following and you know this is what you want to do, you can look into purchasing a domain name and web hosting for your blog.
START WRITING: Now that you've found your blog name, you've set up your blog, the next thing to do is start writing. One thing I tell newbies is start off blogging about things you've already done or products you've already purchased. For example, blog about an event you just came from or a product you already use or purchased, or blog about your family lifestyle. Once you've got some blog posts under your belt and you've generated a little following, you can start signing up for sites that will connect you with companies wanting their products reviewed. Check out my list of sites that I use here. Or you can send pitch letters to the companies that you want to review (more on that later).
SOCIAL MEDIA ACCOUNTS: Whether you are a review blogger or blogger in general, I highly suggest that you set up and create different social media accounts to be connected to your blog. Most companies would ask you to promote their products on some kind of social media platforms such as Facebook, Twitter, Pinterest, Google +, Instagram and Youtube. So having your blog connected to different social media accounts is worth it. Plus, it can help you generate more traffic to your blog.
DESIGN A LOGO/BUTTON: Most bloggers have a logo or button on their blog. Take a look at mine on the sidebar. Having a button is great to have! It helps other bloggers or website owners link back to your blog.
When creating your blog there are a few menu items or pages that I feel are most important. Those would be your About, Contact, Media Kit (more on that later) and Disclosures and PR Policy information. You'll most likely to have more but I'd start off with those for now.
These are your basic essential "must do" to get you started with. You should keep in mind that doing all of those things may take you a bit of time but I strongly urge you to take your time and try to do your best getting up and running. Once you have all of those set up then you're ready to really start blogging!
If you have specific questions you'd like to see addressed, please post them as a comment and I'll see what I can do!