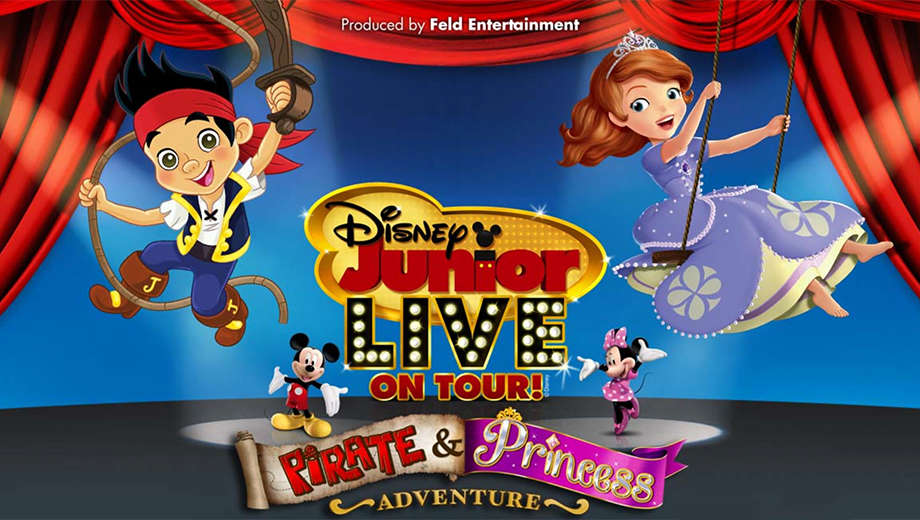 About Disney Junior Live: Pirate and Princess Adventure:
Grab your tiaras and doubloons and join us for Disney Junior Live On Tour! Pirate & Princess Adventure. Mickey and Minnie are taking their seats too at this never-before-seen live show featuring your favorite characters from Disney Junior's hit series, Sofia the First and Jake and the Never Land Pirates. Get swept up in the excitement as Sofia and her family prepare for a royal celebration that helps us all learn the true meaning of being a princess with a special appearance from Cinderella. Then it's off to Never Land where Jake and his swashbuckling friends Izzy and Cubby, with a little help from Peter Pan, battle Captain Hook to unlock treasure hidden inside a mysterious volcano. It's danger and dueling on the high seas as Jake discovers what it takes to be a true hero. Filled with new music, amazing effects, thrilling action and endless surprises, your whole family will sing, shout, and soar into the action when Disney Junior Live On Tour! Pirate & Princess Adventure sails into your hometown.
Special bonus! Starting ten minutes before every performance join lovable Doc McStuffins for a special pre-show! You can help Doc take care of one of her beloved toys with her own special brand of love and magic. Free to all ticket holders.
Where to buy tickets:
You can buy tickets at your local ticket master or buy them off of the Disney Junior Live website.
Important links:
Check out Disney Junior Live website for more information as well as follow them on their social media sites: Facebook and Twitter.
My review:
Once again I would like to thank US Family Guide in providing us with 4 tickets to the Disney Junior Live on Tour Pirate and Princess Adventure show.
The Show feature Sofia the First and Jake and the Neverland Pirates with special appearances from Cinderella, Tinker Bell and Peter Pan. And if you arrived early you got to see Doc McStuffins for a 10 minute pre-show where the kids got to help Doc care for one of her toys.
Sofia the First was the first show to see. We got to see how she prepared for a royal celebration and during the show Cinderella showed up surprising Sofia as well as the crowd. It was truly a magical sight to see. The little princesses in the audience were ecstatic and in awe when Cinderella appeared on stage.
For the second part of the show we got to set sail with Jake and the Neverland Pirates to find a hidden volcano that erupted treasure instead of lava. On this journey Jake and the Neverland Pirates had to battle Captain Hook and his crew. When Captain Hook captured Jake, the Neverland Pirates called upon Tinker Bell for help in calling for Peter Pan. When Peter Pan flew in, all the kids in the crowd was captured in awe and were super excited.
Although my daughter may be a bit old for the Disney Junior shows on TV, she enjoyed the show very much because it was a LIVE show. My family and I was completely entertained by all the dancing and singing and all the magical moments the show offered. The best part of the show was how the characters involved the kids in the audience to be part of the show. They had the kids get up out of their seats to dance and sing-a-long. Another thing I liked is how they incorporated something on the back screen and made it come to life. They really captured the kids attention.
My only complaint about the show is how short it was. Although we enjoyed it very much, it would have been nice to see other Disney shows included in the tour. Other than that it was very much entertaining! Disney Junior Live is definitely a show that the entire family can enjoy together.
Have you been to see the Disney Junior Live: Pirate and Princess Adventure yet? What did you think of it? I'd love to know about your experience in the comments below.
Click to view more pictures!
Disney Junior Live: Pirate and Princess Adventure