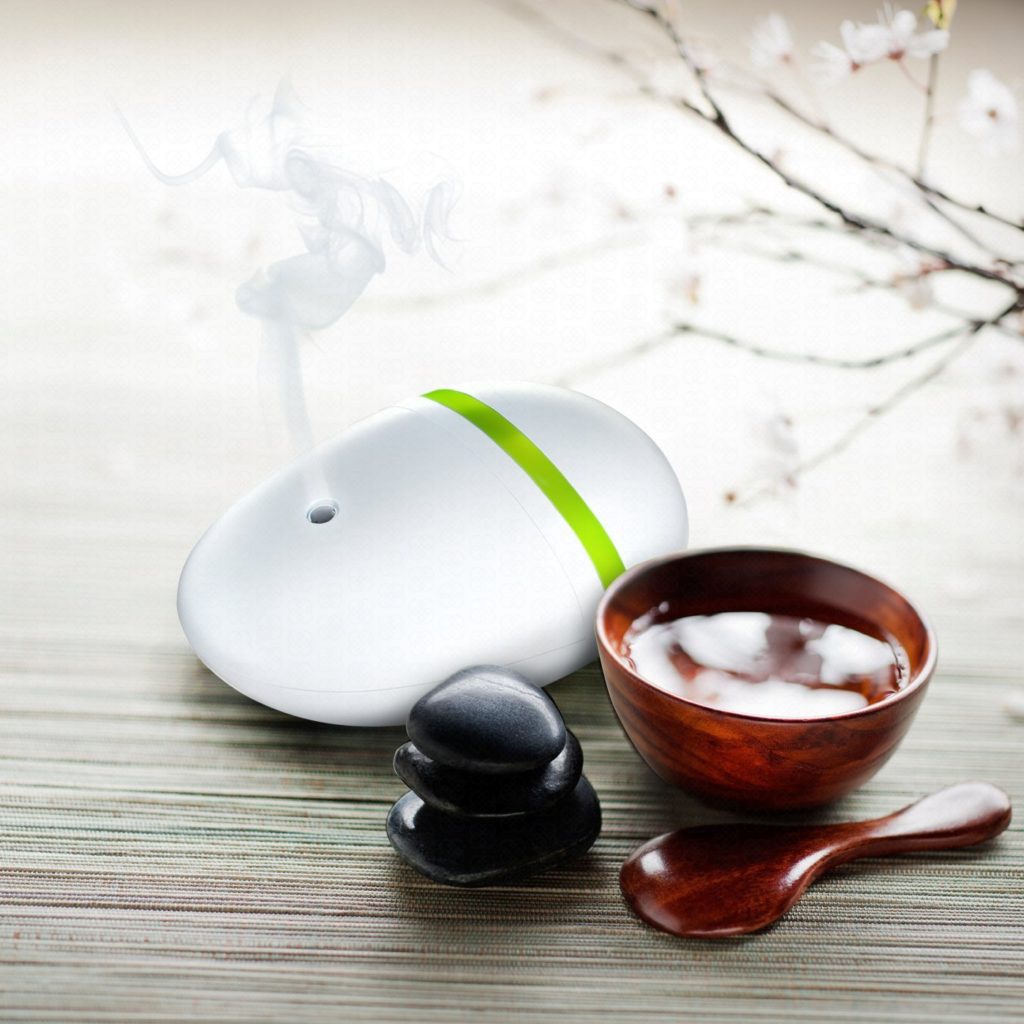 About Riverock Essential Oil Diffuser by Deneve:
UNWIND FROM THE DAILY GRIND. Soothe and infuse your mind, body and soul with the most thoughtfully-designed essential oil diffuser today. Let the calming effects of a babbling brook transport you with the Deneve Aromatherapy Diffuser. This diffuser is the fusion of form and function with leading-edge electronics, ease of use, and chic modern design to accent any home or spa.
PROMOTES WELLNESS. Purifies, sterilizes, moisturizes and ionizes by producing the finest, lightest droplets of water and essential oils without degrading the true essence of oils, allowing micro droplets to disperse more widely. Helps provide relief from dry air, colds & flus, coughs, and skin conditions.
EASY ON THE EYES. Chic modern design resembling a rounded river pebble blends in with most interior decor as an appealing accent or conversation piece. Our LED light band illuminates evenly with no bleed or fade, and serves as mood enhancement or accent lighting. Turn off to rejuvenate in the dark.
TRANQUIL TO YOUR EARS. Finally an aroma diffuser that's quiet and pleasant enough to put on your nightstand. Mechanical noises & NVH levels are nearly eliminated, while our stylish body design accurately reproduces the very faint burble of a distant babbling creek.
RELAXING AS YOU BREATHE. Fill up to the max level with water, and add 5 or more drops of essential oils or blends of your choice, to suit your mood and needs. Can also be used as a humidifier by filling with water only.
PLEASING TO TOUCH AND USE. Our diffuser is designed for superior efficiency and ease of use. No buttons means you can reach out and operate without looking and risking moving or tipping over. Uses water optimally with auto-shut off ensures water is optimally used.
Where to buy:
You can purchase Riverock Essential Oil Diffuser by Deneve
on Amazon.com
for $39.99
Important links:
For more information visit DeneveUSA website. Also be sure to follow them on their social media sites: Facebook.
My Riverock Essential Oil Diffuser by Deneve Review:
As you may know by know I'm always on the look out for natural ways to become more healthier in my mind, body and spirit. I've never had a diffuser before and since I'm getting more and more into having essential oils around, I figured I would need a diffuser around the house. So I'm glad I was able to try this Riverrock Essential Oil Diffuser out. I cannot begin to tell you how much I love this!
I love the design of this diffuser. It's so sleek and stylish. It can fit right into any home or spa. The diffuser I got came in white but you can choose what color you want.
It's so simple to use. Just check out this quick video I made showing you how to use it.

I love everything about this diffuser. I mean everything!! From the different colors glowing to the fine mist it gives out. It's perfect for those who suffer from allergies or those that suffer from dry winters or those who simply just want something to calm them down.
When I first used it, I used one of my favorite essential oils… Lavender. Oh my gosh, let me just tell you that my room was filled with Lavender scent. Seriously, the whole room was taken over by the scent and it was so calming. As soon as you step into my room you can almost instantly start to feel relaxed and filled with happiness. It was so soothing!!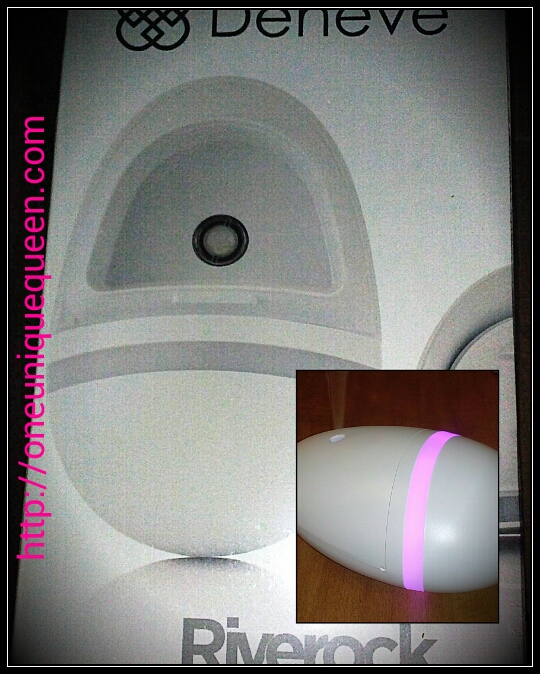 It is the perfect size. It fits perfectly on my nightstand or on my daughters dresser. The power cord is actually quite long making it nice and easy to reach and sit on almost anything you want. Another thing that I absolutely love about this is that it's super quiet…well…let me rephrase that. It's quiet but you can still hear what is describe as the sound of a gently babbling brook flowing over smoothened river rocks. Honestly, I think it's captivating. It helps you to relax and become calm. I just love it!
Overall, I'm very satisfied with this product. I absolutely would recommend this diffuser to everyone especially those who are looking for ways to become relaxed. It's also great to have one of these diffusers in a beauty salon, spa, yoga room, bedroom, living room, bathroom, office, nursery, hotel or anywhere else your heart and soul desires.
How do you use your diffuser, if you have one? I'd love to hear about it in the comments below.