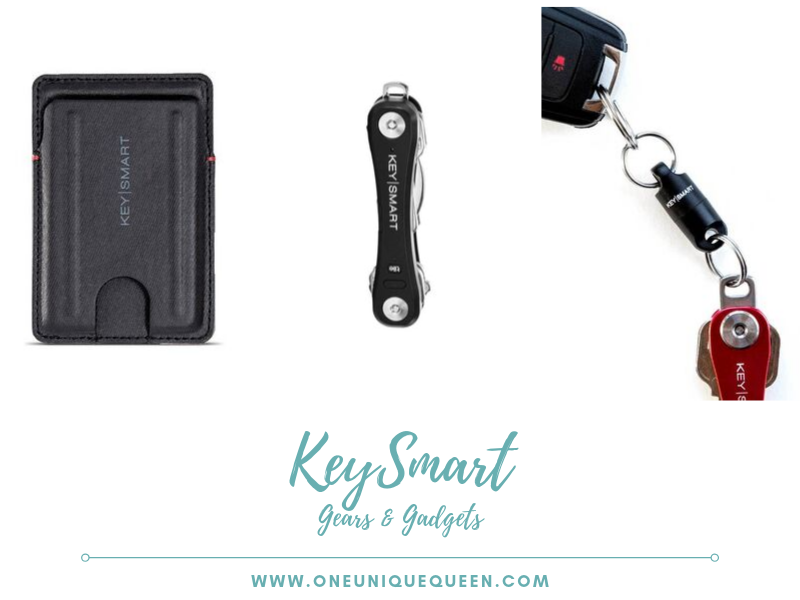 About KeySmart:
OUR GOAL IS TO SAVE THE WORLD FROM BULKY, ANNOYING KEYS
Constantly annoyed with thigh poke, key jingle, and damaged pants, Mike set out to design a solution to the bulky key ring. After months of prototyping, testing, and redesigning, KeySmart was born. The frame was crafted out of aluminum to be ultra lightweight, and the hardware was milled from stainless steel to survive anything life threw at it. After launching on Kickstarter in early 2013, KeySmart was one of the most popular products ever launched. Mike quit his job to take KeySmart on full time and has been making happy customers ever since.
Where to buy:
You can purchase KeySmart Pro for $59.99, Urban Slim Wallet for $39.99, MagConnect for $9.99 on getkeysmart.com
Important links:
For more information visit KeySmart website.
My KeySmart Review:
I was offered the opportunity to check out some of KeySmart products – the Urban Slim Wallet, KeySmart Pro and the MagConnect.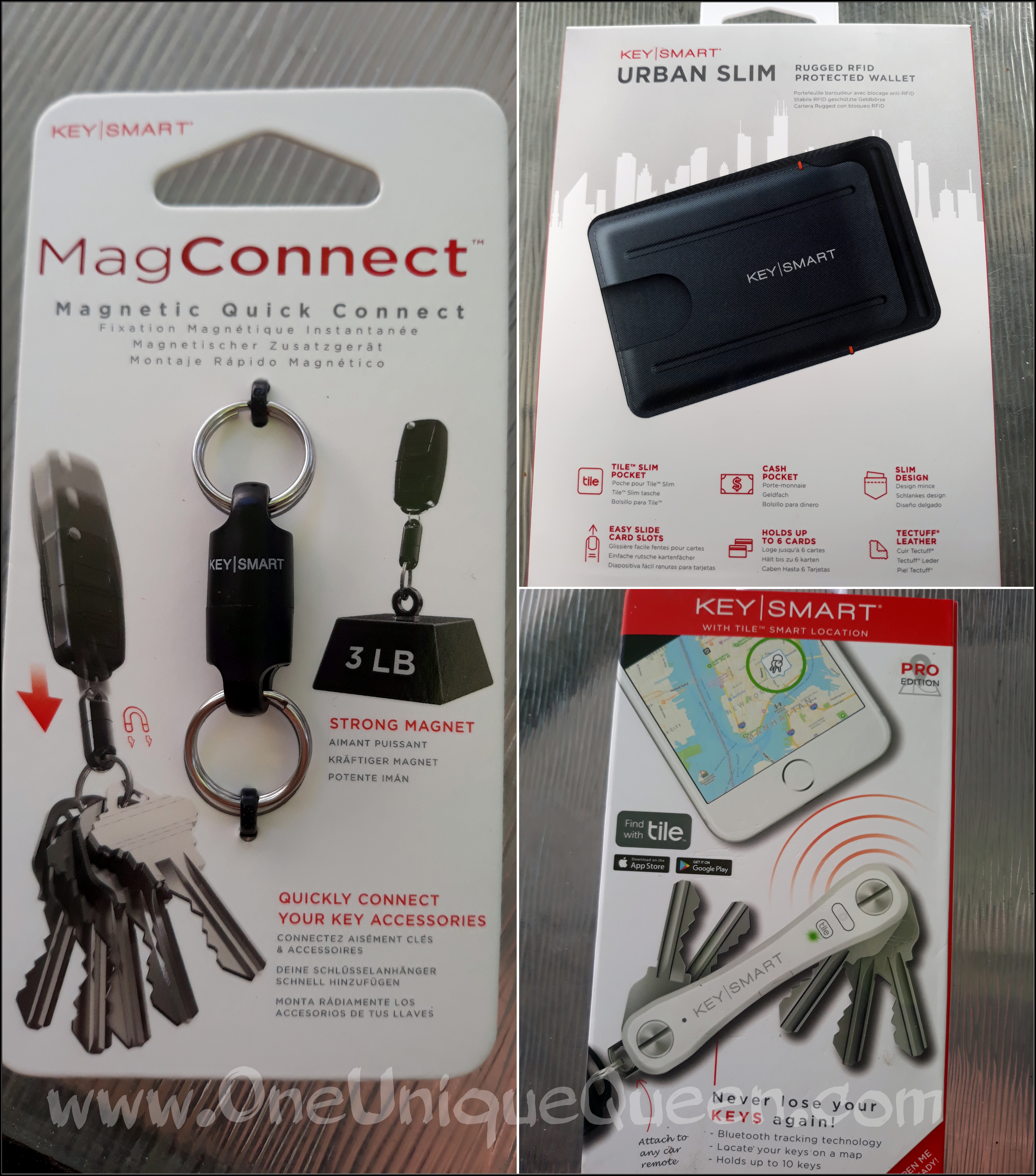 Urban Slim Wallet – The Urban Slim Wallet holds up to 6 cards and has a spot for some cash. It is made with premium Tectuff Leather that is 10x stronger than any traditional leather. The approximate dimensions is 3.95″ x 2.65″ x 0.40″. It has RFID protection and a slim pocket for the Tile (locator). It has card barriers to keep your cards in place, a easy-slide thumb slot for quick card access and has ridges to make it slide into pockets easier. It also comes with a 2-year warranty.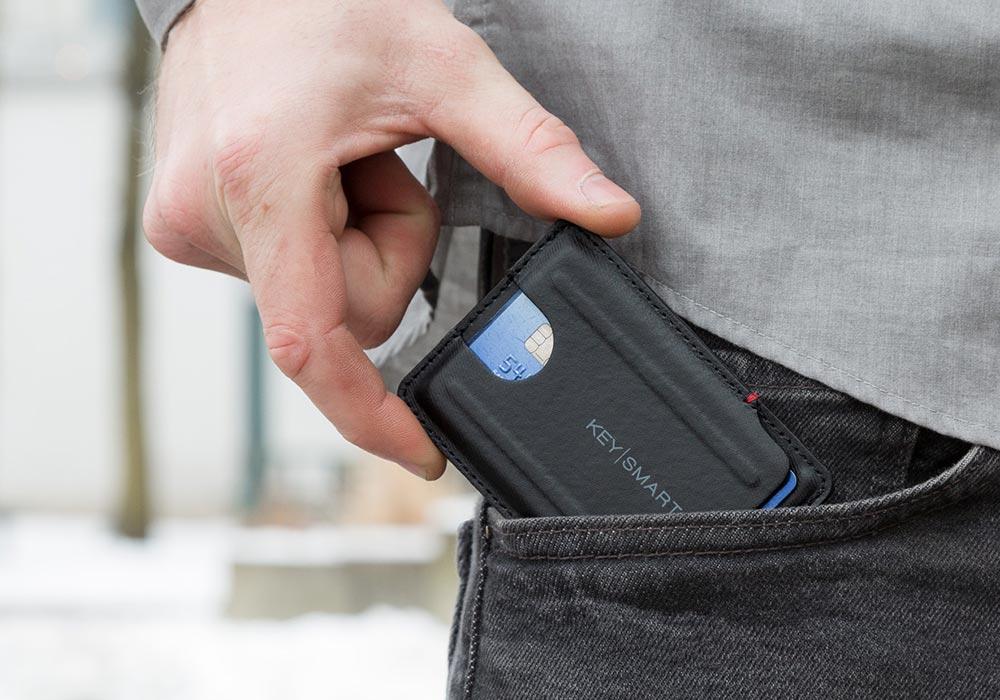 I've been using the Urban Slim Wallet for a couple weeks now. I drive for UberEats in my spare time to make a little bit of side money and there have been times where I don't want to haul my purse around with me. It can be a bit tiring doing so. Having to get in and out of the car, carrying the customers food along with my purse…..um yeah, I needed to do something about that. So when I was given the opportunity to try the Urban Slim Wallet I was a bit excited! I love how "small" it is. I love how I can put my drivers license, my bank cards and some cash in it and have it easily slip nice and comfortably in my back pocket. It doesn't bulge out. I love the fact that the cards stay in place and is easy to get out for use.
KeySmart Pro – NEVER LOSE YOUR KEYS AGAIN!! The KeySmart Pro with Tile™ Smart Location is the ultimate key organizer that gives you: A better way to organize and carry your keys and can give you a peace of mind knowing that your keys are never lost. KeySmart Pro's is embedded with the Tile chip and can be tracked via the Tile app. It is unique in design that allows you to hold between 2-50 keys (with expansion packs). It's universal designed so that it will fit almost any key you have. Comes with LED flashlight and USB cord to charge up your KeySmart Pro. KeySmart Pro hides the jagged edges of the keys for easy access and can be easily stored in your pockets without the keys jabbing into you. The KeySmart Pro also comes with a built-in bottle opener that also functions as a loop ring for car fobs. The approximate dimensions (w/o keys) is 3.75″ x 0.75″ x 0.5″. It is made of plastic with stainless steel hardware. Under typical usages the KeySmart should hold charge for 2+ months. It also comes with a 2-year warranty.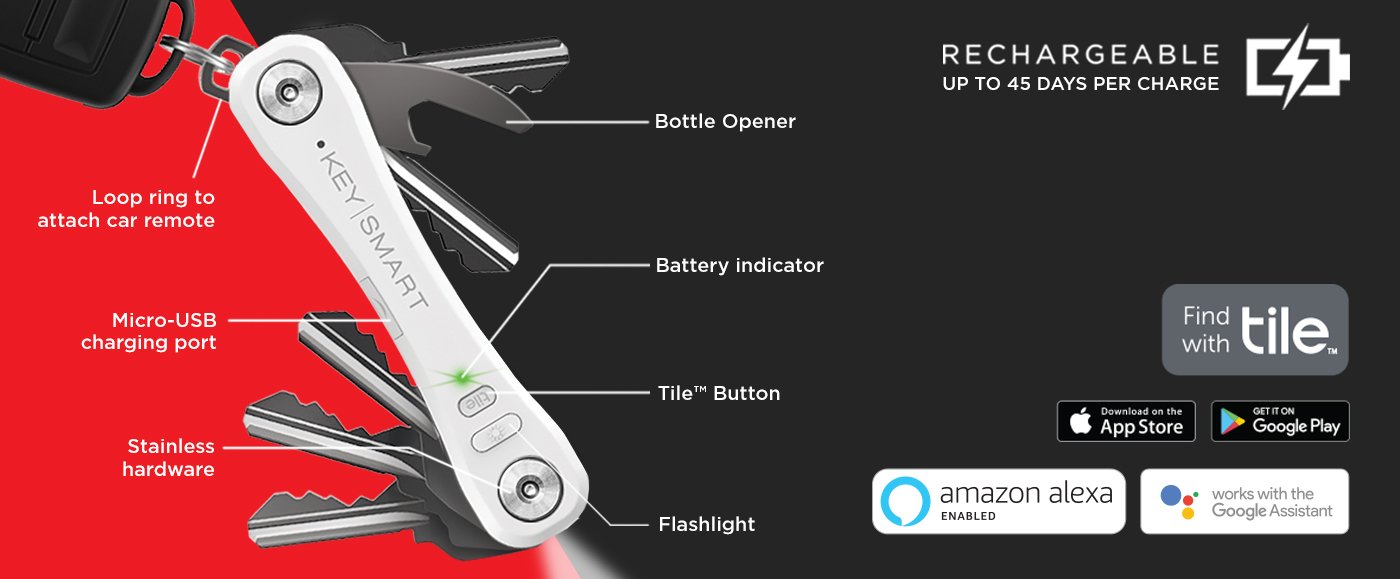 So I found a couple things that I liked and couple things that I didn't like. First off the likes… I liked how it is compact, comfortable to carry around and easily organize my keys. I like the fact that if I happen to lose my keys I can easily go to the Tile app on my phone and locate my keys. I also like how I can use my KeySmart Pro to find my phone, if I ever lost it. For those who drink bottled drinks, it does come with a bottle opener that also is a loop ring for your cars fob. I think it's a nice little accessory for the KeySmart Pro. Another thing I did find handy was the LED flashlight.
So now on to the parts I didn't like about the KeySmart Pro. I didn't like that fact that it can sometimes be hard to pull out one specific key that I need. Although it may be a minor annoyance, I find that I would need to recharge my KeySmart Pro occasionally in order to maintain the Tile and LED flashlight functionality. So if I happen to forget to charge my KeySmart Pro then I would be back at square one trying to find my keys.
MagConnect – Magconnect is the most convenient way to attach large car keys and other FOBs to your KeySmart or keychain. Attaching your keys and car fob to either end of the KeySmart MagConnect, gives you easy access to one or the other. The powerful magnet allows you to quickly attach or detach your keys or fob. It has has twin loop rings that are held together via strong magnetic connectors that is made with durable polycarbonate. It holds up to 3 lbs of keys. You can attach the KeySmart MagConnect to everyday items such as pants, purses, bags and belt loops. You can also attach the KeySmart MagConnect to fridges, lockers and other metal surfaces.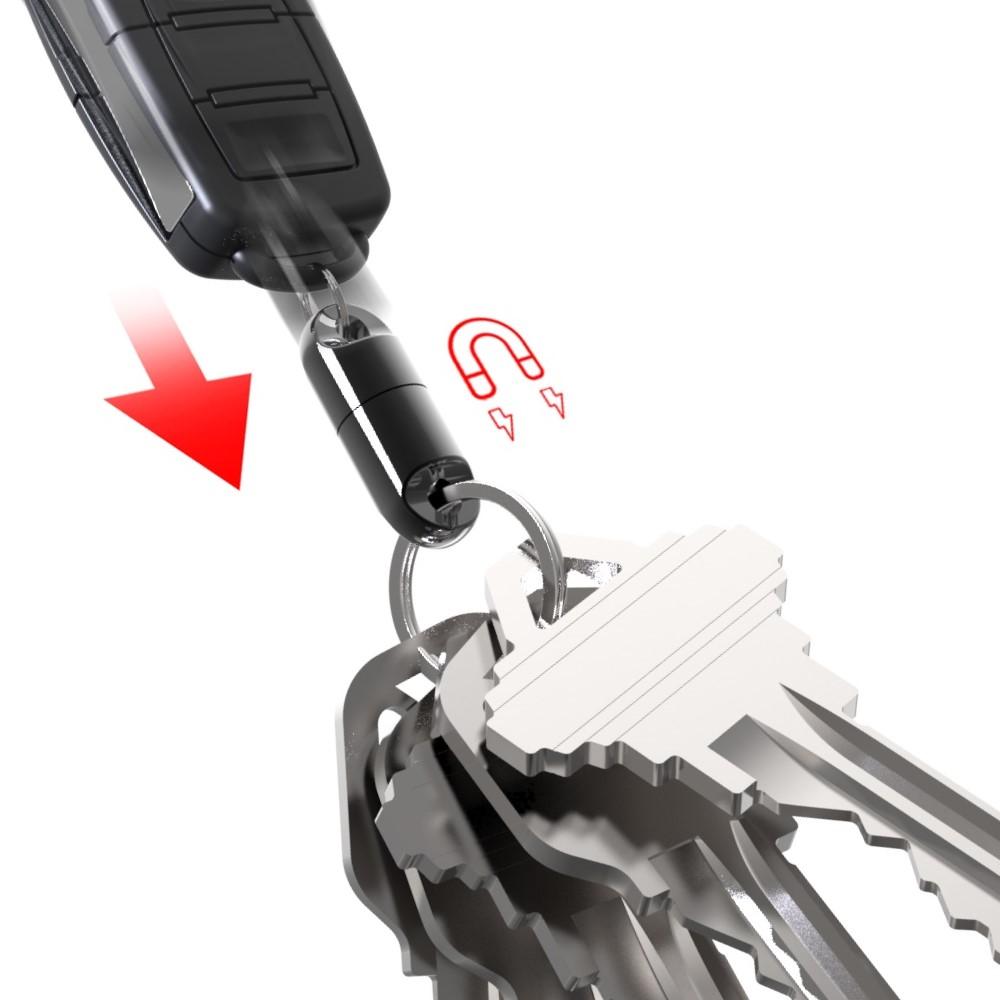 I really like the strength and flexibility of the magnet and how it connects and disconnects my car keys to my house keys. The magnet works really well. I attach one end to my purse and take the other with me if I need to. Having this little gadget on my purse makes no more digging to the bottom to find my keys!! My only problem that I have with this is that when they are separated, the magnets likes to get attached to anything that is metal which in turns makes it easy to misplace my keys. Other than that it's a great to have and makes life a little simpler! It is compact and easy to attach to the Key Smart or use independently for other key organization.
What are some ways you like to stay organized or want simplicity with your wallet or key rings? Let me know in the comments below!