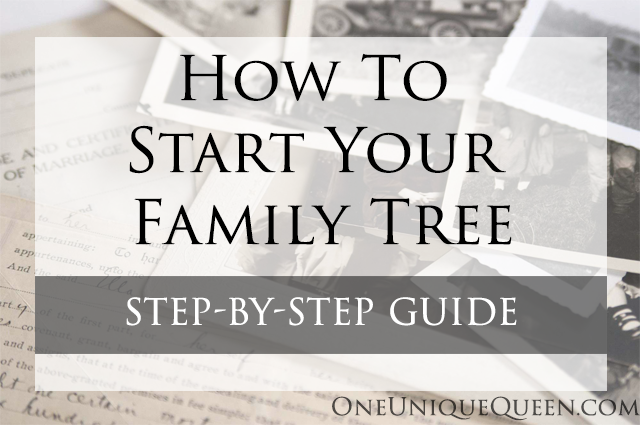 So you've been thinking about starting a family tree but you don't know where to start? I get it! I understand how it can be a bit difficult or confusing on where to start. Don't worry! I'll show you how and where to start. Hopefully, my simple and easy step-by-step guide will give you what you need to get started!
1. Start With Your Own Family
You'll want to start off by beginning with yourself. Write down the date and place of your birth and if you're married you'll want to write that down as well. Then move on to your spouse and your children. Once you're down with that move on to your parents. Write down their birth, marriage and death and if possible include where they are buried at. This is the start of your family tree. Once you've done this you can now work back generation-by-generation, doing the same thing.
2. Gather Any Family History Records
This is where all the fun begins. It's time to start gathering the records you already have. Search your attic, basement or where ever you store your belongs. Think of it this way, you're going on a treasure hunt. The following records tend to be the most useful:
Photos
Birth, marriage and death certificates
Journals, diaries and letters
Military records
Obituaries and newspaper clippings
Family Bibles
Family group sheets, pedigree charts and books of remembrance
All these records will be the basis of your research and will give you clues on the next generation of your ancestors.
Don't forget to ask other family members about your ancestors. They may have some valuable information for your research, such as they may remember important details of certain events or have family heirlooms or maybe they'll have records and/or photos that you don't have already. When talking to your family members be sure to take thorough notes, especially when it comes to names, places and dates.
If you'd like to organize the information you have on paper before putting it online, I recommend downloading and printing a couple family group sheets or pedigree charts for you to use. Ancestry.com has many blank charts that are available and for free.
3. Making Your Family Tree
There are several ways you can do to make a family tree. You can draw one, use a website such as Ancestry.com or you can use a software such as Family Tree Maker. Which ever you choose, the process will be the same. I'm going to show you how to build your family tree with Ancestry.com.
Most people start with themselves and include all known ancestors in a single tree. Others start a separate tree for each parent or grandparent or separate trees per surname. This is totally up to you on how you want to build your tree. Which ever way you choose to organize your tree, I suggest you start with the most recent person and work your way back. Reason for this is because the most recent information you have is usually the easiest to verify and therefore gives you a more solid foundation for older generations.
Step 1. Log into your Ancestry.com account or register for a new account.
Step 2. Click TREES and select Create & Manage Trees from the drop-down menu. Then click on Create a new tree.
Step 3. Click the first box and Add Yourself or the person you are starting with, enter information, and click CONTINUE.
Step 4. Select Add Father or Add Mother, enter their information, and click SAVE.
Step 5. Name your tree and make it public or private. The tree will be public by default. To make it private, uncheck Allow others to view this tree.
Step 6. Click Save to be directed to your new tree.
Now that you've got the start of your tree up and running, you can start adding in other family members and their information along with any records you may found on them.
TIPS:
Always work backwards! Start with the most recent person (usually it's yourself) when creating your family tree, find your parents, then their parents and so on and so forth.
Always double check your facts before adding any data to your own tree, especially if you've discovered information about one of your ancestors on the internet or online trees.
Always source your information, no matter how big or small the source is. Sources are incredibly important and are often overlooked. This will help you determine which piece is more reliable.
Keep track of your research. Use a research log and use it to record which ancestors you've already searched for and where you looked at. This will save you from repeating the same search further down the line. If you're research is recorded electronically, make sure to back it up. Use a memory stick as a safeguard in case you lose access to your data.
The internet can be your best friend. Researching your family doesn't have to be expensive. There are plenty of websites that are free to help you get started, such at  FamilySearch.org. Google! Google! Google! But remember double check what you find!
Visit to your local library or find the closest National Archives regional office. There you will be bale to search for your ancestors in the census, uncover immigration and military records, browse maps and more. Also be sure to check out what records are available from city agencies and courthouses. You can often find marriage, birth and death records, as well as old wills and property records.
Connect with other family genealogists and/or join a family history society, online or in person. Online forums such as rootsweb.com can be a great source of help. There are people from all over the world searching for information on their family members and you never know, you may find just what you need on there or you may have information for someone else. There are beginner genealogists to seasoned genealogists on there that can offer helpful tips and advice on tracing your ancestors.
Hope these tips can help you along your way. Please feel free to ask for help if you are unsure of where to start.
If you've already started your family tree what did you find that was most challenging to you and your research? I'd love to hear about them in the comments below.