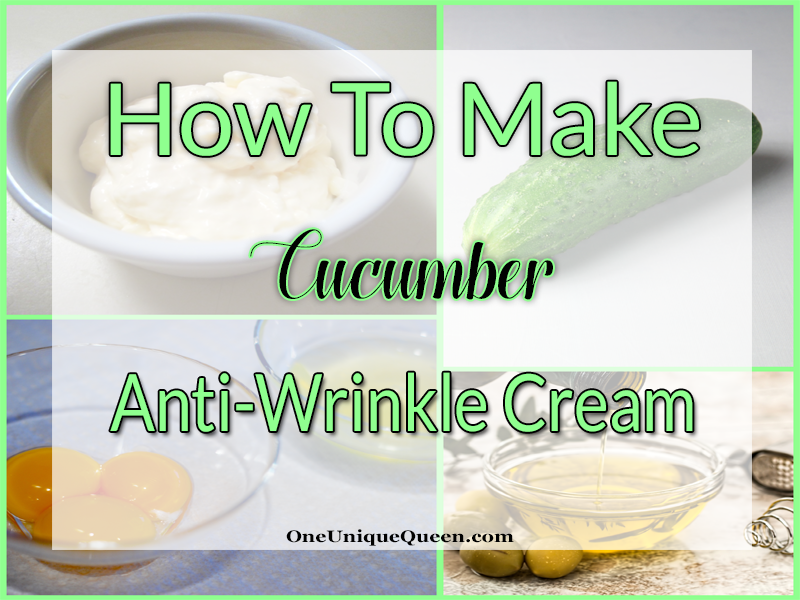 Ever wondered how to get rid of those wrinkles without spending an arm and leg? Well now you can. One way that you can use, is a Homemade Cucumber Anti-Wrinkle Cream. Cucumbers and skin share the same level of hydrogen, so it becomes easier for cucumbers to mask all the problem areas of the skin. The coolness of the cucumber against your skin helps in soothing and softening your skin and is very relaxing. Your skin will be unbelievably refreshed when you're finished.
To make a cucumber anti-wrinkle cream you'll need:
1/2 cucumber
1 egg white
2 tablespoon of mayonnaise
1/2 cup oil (Use wheat germ, olive or avocado oil works best)
Directions:
Wash the cucumber, but DO NOT peel then cut into cubes.
Blend all of the ingredients together in a blender.
Apply the cream to your face twice a day (morning and evening).
Allow it to sit for a few minutes (about 5 minutes or so).
Gently wipe the cream off with a tissue.
*You can also cut cucumber into 2 circular pieces (slices) and put them over your eyes to help reduce wrinkles, swelling and reduces dark circles under your eyes.
*Store in a tight container and refrigerate up to 2 days.
Have you tried Cucumber Anti-Wrinkle Cream before? I'd love to know how it worked out for you in the comments below!