Most people end up with stretch marks, especially pregnant women. (According to American Academy of Dermatology, 90% of women acquire them during pregnancy.) They don't hurt but they do tend to itch. Some people say itching your stretch marks can make them worse. Stretch marks  form either when the skin stretches either during pregnancy or excessive weight gain. Technically there is no way of getting rid of stretch marks or completely preventing them from forming.  But there are natural ingredients and home remedies that can and will increase the chances of prevention of future ones from appearing and the reduction of existing ones.  So, if you're one of those people who are not prone to stretch marks, consider yourself lucky! 🙂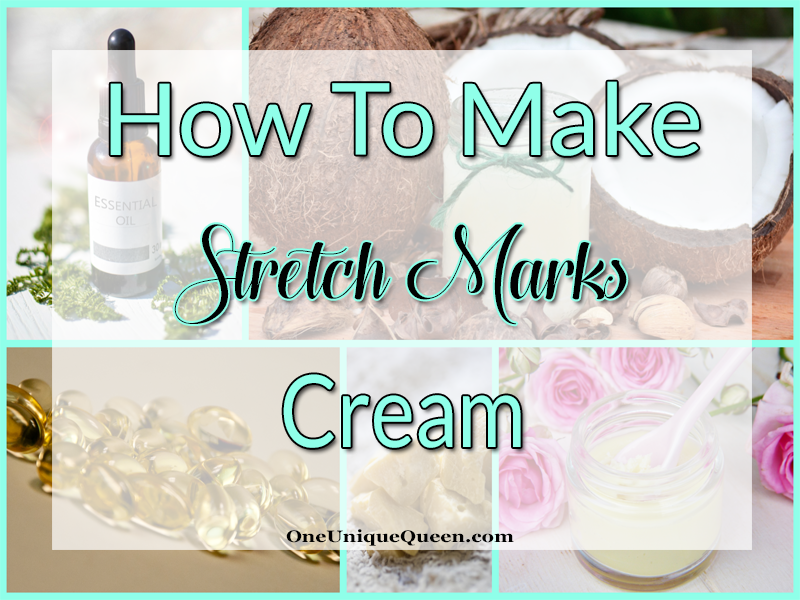 How To Make Stretch Marks Cream
Ingredients:
2 Tablespoons of Shea Butter (Gives your skin that deep moisturizer, heals and helps with skin regeneration)
2 Tablespoons of Cocoa Butter (Great moisturizer for the skin and is a high quality emollient)
2 Tablespoons of Coconut oil (Helps heal, repair and soften skin)
10 drops of Vitamin E oil (Helps with healing)
5 drops of Lavender Essential oil (Has anti-inflammatory properties, plus it helps with relaxation and it smells good)
Directions:
Step 1: In a double boiler, mix together Shea Butter, Cocoa Butter and Coconut oil until butters have melted. Make sure to stir the butters well the whole time.
Step 2: Add in the Vitamin E oil and Lavender Essential oil. Stirring well.
Step 3: Remove from heat and put in a freezer safe bowl. Stick in the freezer until the butter is slightly harden, almost like soft butter.
Step 4: Take the cream out the freezer and whip with a whisk or handheld mixer until mixed well and "fluffy" looking.
Step 5: Store in an airtight container like a small mason jar or jelly jar.
Step 6: Massage regularly on any area where you want to "avoid" stretch marks. Examples: the stomach area, sides, top of thighs, chest/breasts area, etc…
This makes a very good amount of cream as a little goes a long way. The recipe above is easy enough that you could double it to have more on hand or to give away as gifts to your loved ones.
What are some tips you can give to help prevent stretch marks? I'd love to hear about them in the comments below!